Novak Djokovic who calls Monte Carlo his 2nd home had a major blow to his Monte Carlo campaign as he twisted his ankle in the 1st reverse singles match of the Davis Cup Quarter-Final match vs Sam Querrey.
At 1-1 on Querrey's service at 15-40, Djokovic twisted his ankle & here is the video of that ----
Djokovic was in acute pain and couldn't even put weight on his foot at that time.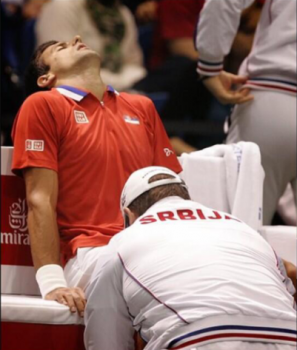 Picture of Djokovic in pain receiving treatment on his ankle during the Davis Cup tie
He had to take a medical time-out & got his ankle strapped and took some pain killers and displayed some amazing Tennis amidst pain to beat Querrey 7-5, 6-7 (4), 6-1, 6-0 to give Serbia an insurmountable 3-1 lead in this Davis Cup quarterfinal at the Taco Bell Arena on Sunday.
"I sincerely hope that I didn't make it worse and I'm going to have a few days off," Djokovic said after the match. "I was able to play some good shots at the right time.
"If I wasn't playing for Serbia, if I didn't have my teammates' support, I don't know if I would've played. The first half hour it was very painful."
Serbia set up a September 2013 semi-final date vs Canada (who defeated Italy).
"I am very emotional about the win today," Djokovic said. "It meant a lot to me personally. It meant a lot to the whole team.
"It meant a lot to the nation. We're very happy to be in the semifinal again."
Djokovic who has a home in Monte Carlo and considers Monte Carlo Masters his home tournament was not sure if he could be fit in time for Monte Carlo Masters 2013 (a tournament which is considered the fortress of Rafael Nadal as Rafa has been winning Monte Carlo Masters for eight consecutive years)
"It's swollen, and when it's swollen it's definitely not a good first sign," Djokovic said. "I'm going to do everything I can in my power to recover till that tournament. How realistic that is, I don't know what to tell you."
Novak Djokovic, immediately after the victory against Sam Querrey underwent an initial medical check-up and apparently the ankle injury is more serious than expected.


The world number 1 during an interview with the TV Serbia (RTS) tried to stop his tears but in vain: "Playing for Serbia is always a great honor and a pleasure.'s Injury seems to be more severe than what I expected , the ankle is quite swollen and it is not a good sign, I will do everything possible to recover for Monte Carlo. How realistic is my participation in that tournament can not tell you. "
Picture of Novak Djokovic in tears during an interview to a Serbian TV Channel
Pic courtesy rts.rs
The Serb is already back at his residence in Monte Carlo and in the next 24-48 hours will undergo further medical tests including MRI. His presence in Monte Carlo is a major doubt.
With Roger Federer having opted out of Monte Carlo Masters, 2013 & its still not sure if Federer will accept the wild card for Monte Carlo, we all do hope that Djokovic can be fit in time for Monte Carlo Masters, 2013.
PS: Novak Djokovic confirms that he will play his 2nd round match vs Mikhail Youzhny on Wednesday, 17th April, 2013. Scroll down for all knowing all the developments that have taken place in these last 10 days after Djokovic got injured.
Edited by Vibhuism, 16 April 2013 - 09:12 PM.
Updated after Djokovic's decision to play