Roger Federer returned to grace the tennis courts for the first time in eight weeks; his last appearance being a quarter-final loss to nemesis Rafael Nadal at Indian Wells, California.
Roger's opponent today was the sly Czech veteran, Radek Stepanek, and despite a lopsided 2-11 H2H, he was expected to test a potentially rusty world n° 2.
Salient highlights, first set:
» Rust? What rust? Federer starts with a love-hold and proceeds to break Stepanek in game 4.
» And the proof for not being rusty? Federer was clearly winning the longer rallies. He would go on to save two break points in a long fifth game that featured 5 decue points.
» Federer, hardly tested, would serve out the set 6-3.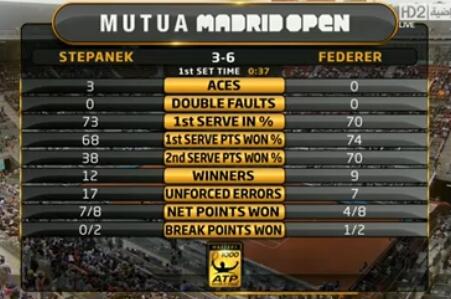 Salient highlights, second set:
» Federer is fast out of the blocks, yet again. Breaking in the third game to lead 2-1. Stepanek would rue a fluffed overhead on game point in that very game.
» Federer's movement and shot-making, still not at 100%, is still very very effective.
» The writing was seemingly on the wall when Federer broke Stepanek again for 5-2.
» There was an unexpected wobble in the eighth game. Stepanek survived 3 match points and Federer's serve finally buckled on the 6th break-point.
» An anti-climax wasn't to be as Federer broke Stepanek in the very next game to move to the second round.
GSM, Federer, 6-3, 6-3. 81 minutes.