Roger Federer showed why he is considered venerable in the Tennis world as he crushed Adrian Mannarino 6-3, 6-0, 6-2 in the 3rd Round of US Open in 1 hour & 21 minutes. Federer produced his best Tennis of the tournament as he reached the 4th Round of US Open for 13th consecutive time where he will play Tommy Robredo on Monday.
It was venerable Roger Federer as he raced in to Round-4 of US Open, 2013
Roger Federer playing in his first evening match at US Open, 2013 was spotted in his evening Nike outfit which had an interesting color combination of a Black Bandana, Black T-shirt, Blue shorts, Black socks & Shoes.
Picture of Roger Federer in his evening outfit for US Open, 2013 that was the talking point on many on Social networking sites
Set-1
Roger Federer started the match in an aggressive manner as he approached the net twice on his very first service game. The only comfortable service game for the French Man was his first service game. That was the only time when Federer & Mannarino were equal in the match.
Federer broke the French Man's service in the 4th game to get to a 3-1 lead. Mannarino's had one break point in the next game & that break point was in fact the first & the last break point that Mannarino got in the match.
After Federer saved that break point & made it 4-1, the Swiss maestro completely dominated the match & post that, it was like a Tennis clinic.
The next four games went on service as Federer won the first set 6-3 in 29 minutes.
Here are the first set stats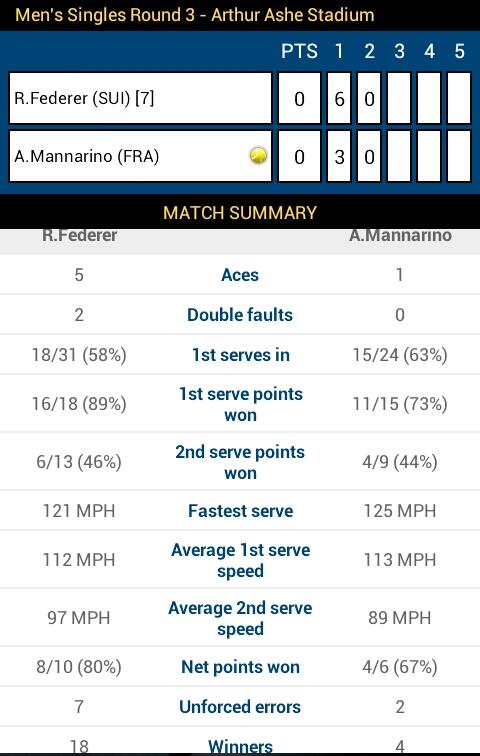 Screenshot credit: Inga Goncharenko
Federer first serve % once again stood at 58%.
Set-2
Roger Federer just like he did in his first 2 round matches at US Open, 2013 broke his opponent's service in the first game of the 2nd set. Mannarino had no answers to Federer's returns, slices & his volleys as Federer broke the French Man's service once again in the 3rd & 5th game to win the set 6-0 in 22 minutes.
Here are the 2nd set stats
Roger Federer's first serve % stood at 67% for the set.
3rd set
There were loud cheers in the Arthur Ashe stadium as Mannarino finally managed to hold his service in the opening game of the 3rd set. But, that was short lived as the French Man lost his service in the 3rd & 5th game. Mannarino had absolutely no answers to Federer's game & the match was looking an absolutely mis-match.
Federer had 2 more break points (match points) on Mannarino's service at 1-5, but some how, the French Man saved those match points to make it 2-5.
But, Federer comfortably served out the set 6-2 in 30 minutes.
Here are the third set stats
Roger Federer's first serve % stood at 48% for the set
Here are the overall match stats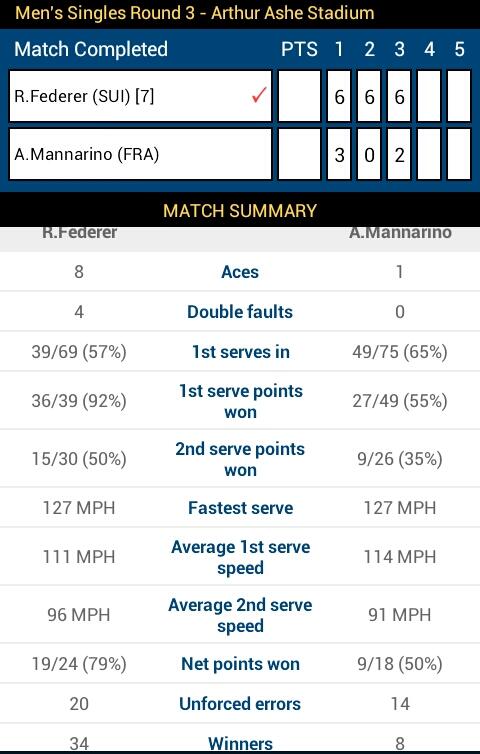 This was Federer's 67th match win at US Open.
"There is always pressure to come out here and play well," said Federer, who struck 34 winners. "Tonight was one of those nights. I was able to play a great match, I'm very pleased with the outcome.
"I was able to use my serve well in the wind. Once I won the first set I was playing with the lead and that makes things easier."
When asked, what will you do in your day off, Federer said, I'm not going to fly to Switzerland, that's for sure as it is too far."
With this win, Roger Federer is sure to reach minimum of #6 ATP ranking (one position above Juan Martin Del potro who lost to Lyeton Hewitt) post US Open, 2013.
Scroll down for more pictures, interview quotes, video highlights & more insights from the match.