Novak Djokovic defeated Roger Federer for the 2nd time in 4 days 6-4, 6-7 (2/7), 6-2 to kick start his title defense of Barclays ATP World Tour Finals.
Novak Djokovic kept his chances of ending 2013 as Year-end #1 alive for at least one more day. How ever, if Rafa Nadal beats Stan Wawrinka on Wednesday or Tomas Berdych on Friday, he will ensure 2013 year-end World No. 1 ranking.
1st Set
The first 8 games went on serve. Federer had the first chance to break, but couldn't convert the break point in the 9th game. Djokovic then broke Federer's service to win the 1st set 6-4 in 37 minutes.
Here are the first set stats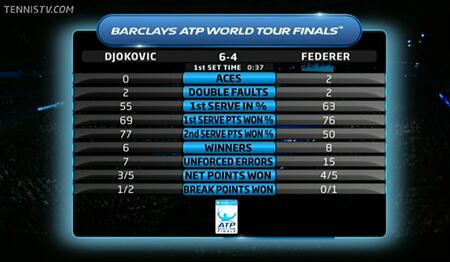 Federer's 1st serve % stood at 63%, but, how ever 8 winners to 15 Unforced Errors compared to Djokovic's 6 winners & 7 U.E.'s was the main reason, Djokovic won the first set
2nd Set
The second set was an absolute roller coaster ride for both. Federer got the 1st break in the 5th game, Djokovic broke back immediately to level it 3-all.
Federer then again broke Djokovic's service in the 7th game, then managed to hold on to get to a 5-3 lead.
Federer while serving for the set in the 10th game at 5-4 had a set point, but, Djokovic saved it & then managed to break Federer's service to level the set at 5-all.
The set went to the tie-breaker, Federer managed to win the tie-breaker 7-2 much to the delight of Mirka Federer & his dad Robert Federer who were present there. The set duration was 1 hour & 10 minutes.
Here are the second set stats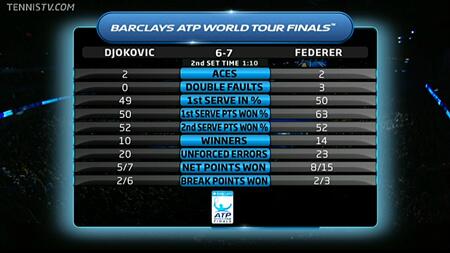 As you can see from the set stats, both players struggled on their serves in the 2nd serve
3rd Set
Djokovic dominated the set
Roger Federer lost his service in the 1st & the 5th game as Djokovic won the set comfortably 6-2 in 35 minutes.
Here are the overall match stats ---------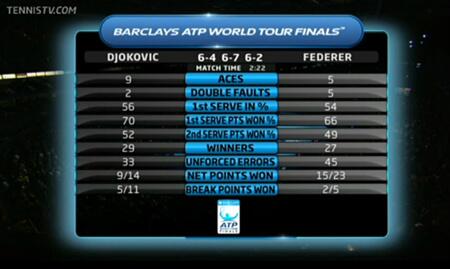 Clearly both players struggled, just that Roger Federer lost his way after a superb 2nd set tiebreaker
As predicted by me yesterday, Roger Federer's next match is vs Richard Gasquet on Thursday & the match is scheduled in the afternoon session (starting time 2 pm GMT).
Scroll down for pictures, interview quotes, video highlights, recordings from the match.