It was a perfect story of never say die attitude, it was a perfect amalgam of perseverance, self-belief & fighting till the end that ensured Roger Federer reached his 11th semi-final in his 12th appearance at World Tour Finals, 2013 in a match that had every thing from emotions, tears, smile & finally a chest thump.
Roger Federer reached his 11th semi-final in the last 12 years at World Tour Finals as he rallied past Juan Martin Del Potro 4-6, 7-6(2), 7-5 in a nerve jangling round robin match that lasted for 2 hours & 26 minutes. As, both Del Potro & Federer were tied at 1 win each after 2 matches, so, this match was a do or a die for both Federer & Del Potro as Djokovic had already confirmed his place in the semi-finals after defeating Del Potro on Thursday.
Roger Federer in picture thumping his chest after defeating Del Potro in a thrilling 3 setter at O2, London
1st Set
The Argentine got to a wonderful start breaking Federer's service in the very first game. Federer got on the board in the 3rd game. How ever on his next service game, Federer after a 40-0 lead, got broken much to the disbelief & anguish of majority of the crowd present at O2, London. Del Potro then had an easy service hold & got to a 5-1 lead as Federer was looking out of sorts.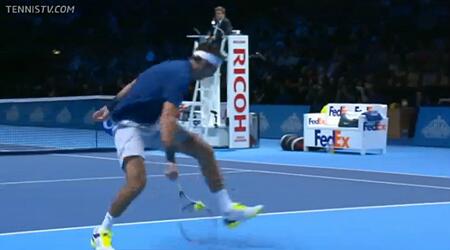 Del Potro managed to break Federer's service in the 5th game with this tweener
At the change over, after Federer trailed by 5-2, he was seen viewing the big screen & that probably motivated him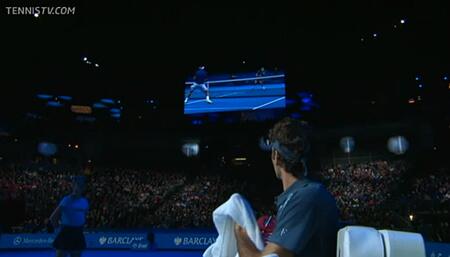 Federer managed to hold his next service game in just 62 seconds to make it 2-5 & that was the turning point of the match for me. That game gave Federer the much needed confidence. He carried on with the momentum and managed to break the Argentine's service in the next game and then held his service to make it 4-5.
How ever, the Argentine managed to serve out the set in the 10th game after saving 2 break points.
Del Potro won the first set 6-4 in 41 minutes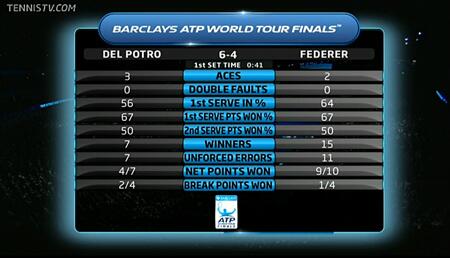 Federer's game improved after the first 6 games as he looked very flat in the first 6 games
Here's a quick look at how deep Delpotro's returns were in the 1st set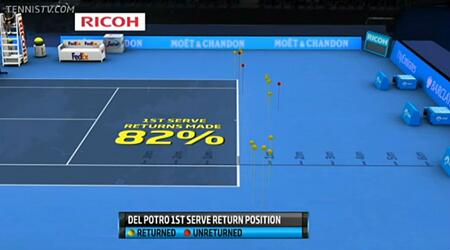 2nd Set
Del Potro got an early break once again in the 3rd game to get a 2-1 lead. Just, as we thought, Del Potro will run away with the match, Federer broke back in the 6th game to make it 3-all.
The next 6 games went on service and the 2nd set got to a tie-breaker
Tie-Breaker
Federer got the first mini break & then quickly to a 2nd mini & after the first changeover, lead by 4-2. Federer then got the third mini break & comfortably, served out to win the 2nd set tie-breaker 7-2.
Here are the 2nd set stats for you all -----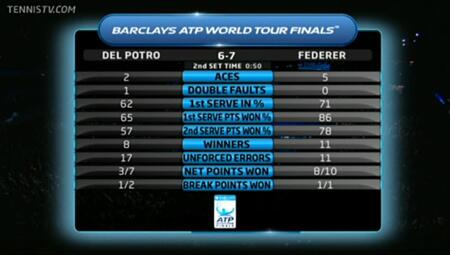 Federer won the set in 50 minutes as his first serve % for the set touched 71
Here's a quick comparison of how Federer's backhand looked like for the first 6 games and the next 16 games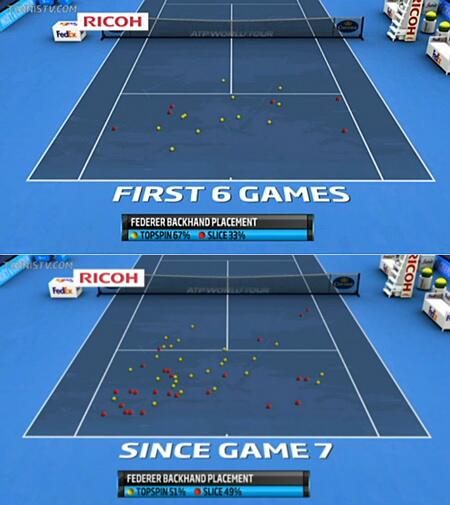 3rd Set
Del Potro again got the first break & raced to a 3-0 lead. For the 3rd time in as many sets, Federer once again broke back in 5th game & then quickly made it 3-all.
The next 4 games went on service, here are a couple of screenshots of Mirka Federer just to let you know, how tensed it was for all including Mirka Federer during the match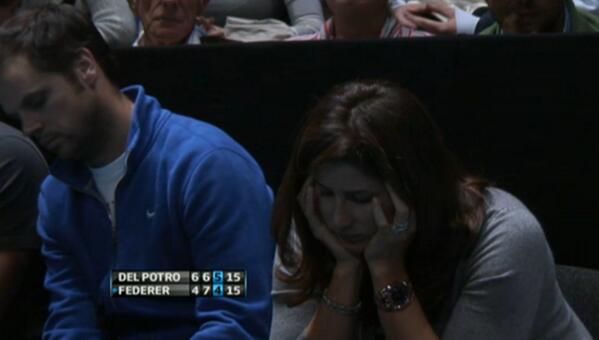 During this phase of the match, almost 99% of the crowd at O2 was cheering for Roger Federer and much to every one's delight, Roger Federer broke in the 11th game to get to 6-5 lead.
Federer then served out the set & the match in the 12th game with his 10th ace to win the nerve jangling set 7-5
Federer's 1st reaction after the match ----
Here are the overall match stats -----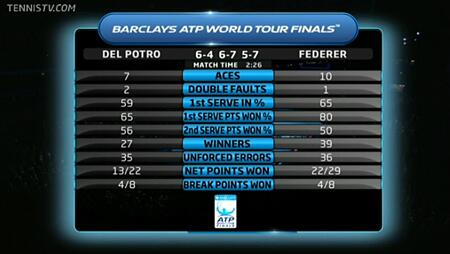 Federer's game improved by leaps & bounds especially after the first 6 games of the first set & 65% first serves in for the match has to be said was an impressive performance.
Here are another set of manual stats kept by one of my friends Vitthal Mirji
Impressive, no?
This was Roger Federer's 15th win over Del Potro & Federer now leads the head to head 15-5 vs Del Potro.
Some cool stats from Roger Federer's impressive records at World Tour Finals, 2013 ----
(i) This is the 12th consecutive year Roger Federer is competing at WTF.
(ii) Roger Federer after today's win has reached semis 11 years out of those 12.
(iii) Roger Federer has won 6 titles, losing in the finals twice & losing in the semis twice in these 12 years.
Roger Federer will play Rafa Nadal in the first semi-final on Sunday at 2 pm GMT, the 2nd semi-final will be between Novak Djokovic and Stanislas Wawrinka, start time: 20 GMT.
Scroll down for more pictures, interview quotes, video highlights, video recording and other insights from the match.