Roger Federer playing in his 57th successive slam & 16th consecutive Australian Open won his 69th match at Melbourne as he eased past James Duckworth 6-4, 6-4, 6-2 in one hour & 46 minutes amidst some severe hot conditions with temperature soaring past 40C (105 F).
This was Roger Federer's 69th match win at Australian Open in his 79th match & his 261st match win at a slam in his 302nd match at the majors
After today's win, Roger Federer has 69 match wins at Aus Open, while he has won 58 matches at French Open, 67 matches at Wimbledon & US Open.
1st Set
Federer's service looked quite sharp & he didn't face any break points in the 1st set. How ever, Federer had break points in the 3rd, 5th & 7th game on Duckworth's service. Federer converted the break point in the 5th game to get his only break of the set & that break of service was sufficient as he won the 1st set 6-4.
Here are the 1st set stats --------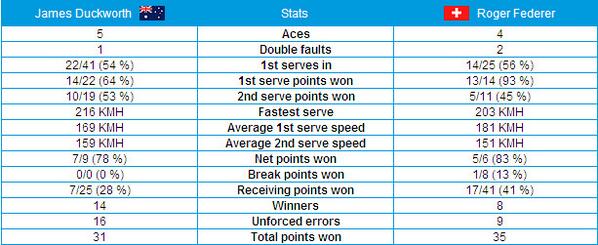 Screenshot cr: Viki_RF
The only point worth mentioning here is that Federer had 8 break points in the 1st set & could break the Aussie service only once.
2nd Set
The Swiss maestro had break points in the 3rd & 7th game of the 2nd set & broke the Aussie's service in the 7th game to get to a 4-3 lead. That one break of service again proved sufficient as
Federer won the 2nd set 6-4 in 36 minutes.
Here are the 2nd set stats ------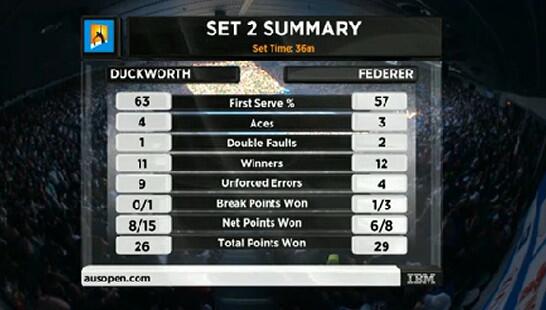 Screenshot cr: Viki_RF
The Aussie gave a good fight to Federer in these two sets. His tactic of serving from a wide angle looked effective at times, but he didn't have the consistency to trouble Federer.
Set-3
Federer broke Duckworth's service in the opening game of the 3rd set & that probably, ended the Aussie's spirit. Federer got the insurance double break in the 5th game to get to a 4-1 lead.
Roger Federer then served out the set & the match in the 8th game to win the match 6-4, 6-4, 6-2 in 106 minutes.
Here are the overall match stats from Federer's 69th match win at Melbourne ------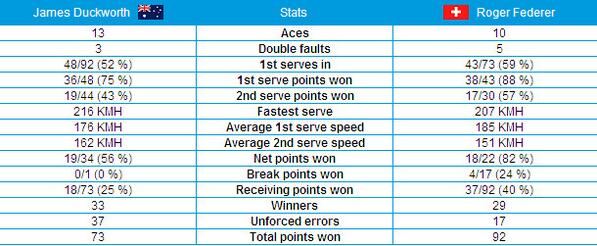 Federer faced only one break point in the 2nd set
Roger Federer's Round-2 match will be against Blaz Kavcic on Thursday.
The Swiss maestro is making his first appearance at a major under new coach Stefan Edberg, who himself is a two time winner of Australian Open (1985, 1987).
"It's great fun to be playing in front of him (Edberg) and it's been a dream come true for me," Federer said.
"I used to watch his matches and get inspired to play this great game so to have him in my corner through the year and this tournament is very special and I can't be thankful enough."
Federer says the heat, which hovered around the 40 degrees mark, made for quick conditions on court and he had difficulty finding his rhythm and getting into rallies.
"I'm feeling okay, it's not crazy so I'm happy with how I am feeling this way right now," he said.
Scroll down for more pictures, interview quotes, some highlights package from the match and other insights.