It was absolute vintage Federer as he secured his place in his 11th consecutive Quarter Final appearance at Australian Open, as he eased past the 10th seed Jo-Wilfried Tsonga 6-3, 7-5, 6-4 in 1 hour & 52 minutes.
Roger Federer in his evening outfit secured his 11th successive QF appearance at Australian Open
The Quarter-final match vs Andy Murray will be Roger Federer's 41st appearance at the Quarter-final stage of a grand slam event & that would tie him with Jimmy Connors in terms of most QF appearances.
This was Roger Federer's 930th win on the tour & now, he is 3rd in terms of most numbers of wins in open era. Only Jimmy Connors with 1253 & Ivan Lendl 1071 wins are ahead of Roger Federer.
Set-1
Federer started the match with an easy opening service game. Amazingly, firstly, Stefan Edberg put up a towel on the camera in the players box & after that, Severin Luthi also put a black cloth on the camera to ensure their every emotion being covered on camera
.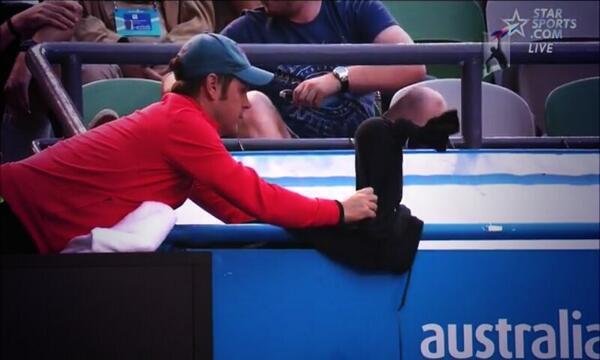 Severin Luthi in picture covering the camera near to the players box
Federer broke the French man's service in the very next game to get to a 2-0 lead. Federer got the break on his very first break point.
Federer won the next service game with two amazing drop shots to get to a 3-0 lead & it looked as if Federer had decided that his game plan is to keep mixing.
He came to the net four time in these three games, played 4 drop shots & these first three games pretty much set the tone for the match.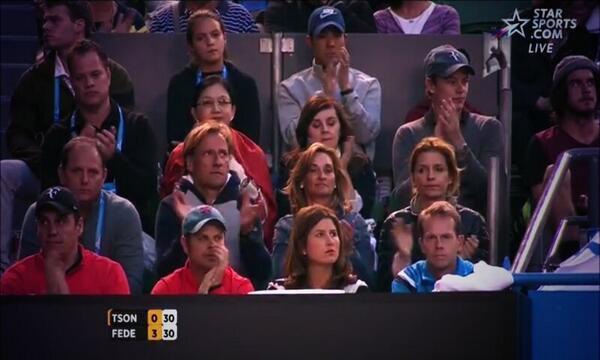 The Host broadcaster camera still kept on focussing on the Federer camp with their front on camera
The next 6 games went on serve as Federer kept mixing his game & had absolutely no trouble in serving out the first set 6-3 in just 29 minutes.
Here are the first set stats -------
Though, Federer's 1st serve % was only 50%, but he won more than 75% of those points on first serve. Another important aspect was Federer's impressive net game & Tsonga had no answers to Federer's impressive strategy & implementation
Screenshot credit: Viki_rf
Set-2
Tsonga showed tremendous grit & fight in the second set, but, how ever, Federer's service was just impeccable in the 2nd set.
Federer didn't face a single break point even in the second set. Federer's 1st break point opportunity came in the 11th game as Tsonga saved that with a huge ace on the ad court. How ever, a lucky net cord gave Federer another break point & the Swiss maestro got the break after Tsonga's backhand found the net.
Federer then served out the set in the 12th game winning the set 7-5 in 46 minutes.
2nd set stats ------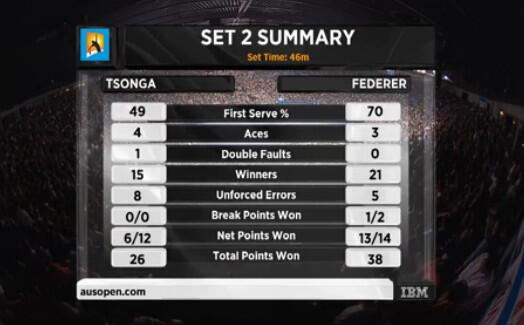 Screenshot credit: viki_rf. Not only was Federer's service impeccable, but his net game, his winners on both the forehand & backhand side were amazing. Even, he had just 5 UE's in the 2nd & this was the most perfect set that Federer played against a Top-10 opponent in over an year.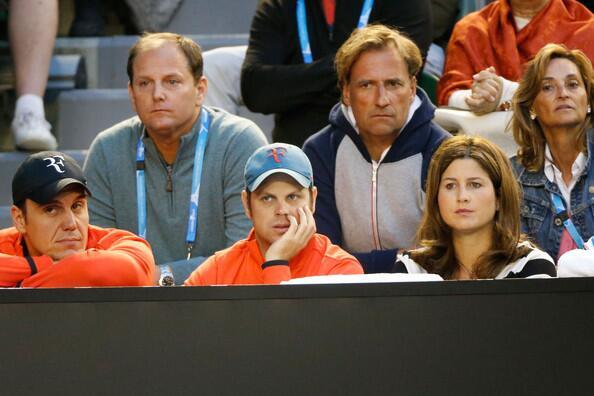 Federer's box after he won the 2nd set
Set-3
Tsonga clearly looked shell shocked at Federer's level of play. Federer got the break in the 3rd game as he broke to love & at times, it looked as if we were seeing Federer in his prime days of 2007-2008.
Federer had lost only 12 points in his 13 service games as he raced to a 4-2 lead.
The 7th game of the third set saw huge drama after Tsonga in anger thumped a ball high in to the crowd after he fell 0-40 down. Tsonga got a code violation for that.
Picture of frustrated Jo-Wilfried Tsonga during the 7th game of 3rd set
But that how ever geed up Tsonga as he managed to save those three break points & managed to make it 3-4. Tsonga had the momentum at that stage and got his first break point of the match in the 8th game, Federer managed to save it and then held his service to make it 5-3.
Federer then served out the set and the match in the 10th game on his second match point winning the set 6-4.
It took 1 hours & 52 minute for the 4 time Aus Open champion to reach his 11th successive QF at Australian Open and the end score-line read 6-3, 7-5, 6-4.
Here are the overall match stats -------
Screenshot cr: Remi Bacani (Neelimer).... It was an asbsolute vintage Federer as the match stats clearly show on every aspect.
Federer's QF match will be against Andy Murray on Wednesday and Murray leads the head to head vs Federer 11-9.
This win ensures that Roger Federer assured himself of an ATP Top-8 ranking even after Australian Open & that means, Federer is assured to be in Top-8 for at least 4 more weeks (until Dubai Open) & that would mean, Federer is assured of completing 590 weeks inside Top-8 rankings. For more ranking scenarios, click here.
Scroll down for more pics, video highlights, interview quotes, pics, on court interview with Jim Courier, post match press conference & other insights from the match.