Roger Federer reached his career's 116th, 35th ATP 1000 masters & 5th final at Indian Wells as he eased past Alexandr Dolgopolov 6-3, 6-1 in 61 minutes.
Roger Federer is just one win away from winning his 79th title & a win in Sunday's final will bring his ranking back to Top-4. Roger Federer after spending more than 10 years in ATP TOP-4 ranking has been ranked outside Top-4 since losing in the 2nd Round of Wimbledon, 2013.
Roger Federer when asked about returning back to Top-4 stated that, it does make life easier knowing that you won't have to play Djokovic or Nadal in the quarter-finals of the tournaments.
Set-1
It was a very windy day at Indian Wells & the Ukrainian never looked settled. He was playing his 1st ever masters semi-final & the terrific form Federer is in currently made his job even more tough. To add to that, his 1st serve absolutely deserted him & the plethora of unforced errors made it little impossible for Dolgopolov to challenge Federer who looked in absolute vintage form.
Federer broke Dolgopolov's service in the 8th game on his 1st break point & then served out the set with ease in the 9th game winning the 1st set 6-3 in just 30 mins.
Here are the 1st set stats ------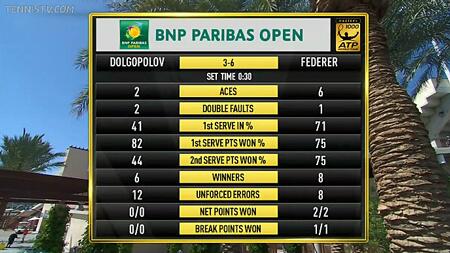 Clearly, Dolgopolov's 1st serve % was a mere 41% & to add to that, 12 unforced errors & the sublime form in which Federer was in made it an one sided set & match.
Set-2
The Swiss maestro broke the Ukrainian's serve in the opening game of the 2nd set & that pretty much ended any hopes of a comeback. Federer got the double break in the 5th game to get to a 4-1 lead & then broke Dolgopolov's service for the 3rd time in the 2nd set in the 7th game to win the set 6-1 in 31 minutes.
The final scoreline read 6-3, 6-1 in 61 minutes & here are the overall match stats -----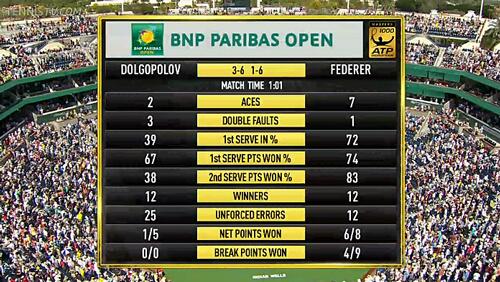 The wind, sublime Federer, 39% 1st serve % & 25 unforced errors by Dolgopolov made it an absolute one sided match.
Roger Federer will play Novak Djokovic in the final of BNP Paribas Open, Indian Wells 2014. Novak Djokovic overcame a resurgent John Isner in three sets.
Head to head: Roger Federer & Djokovic have played 32 times with Federer leading the head 17-15 vs Djokovic.
They have played 18 matches on outdoor hard court with Federer leading the head to head 10-8.
They have played 8 final matches and are tied 4-all in the finals.
Match start time: The mens singles final match start time is 2 pm PDT or 5pm EDT or 9 pm GMT or 10 pm CET or 02:30 IST or 05:00 CST/PHT Or 10:30 am AEST.
Scroll down for more pictures, video highlights, post match press conference & other insights from the match.