Kei Nishikori showed some great grit & determination as he knocked out Roger Federer 3-6, 7-5, 6-4 in 2 hours & 8 minutes to set up a semi-final clash vs Novak Djokovic. Nishikori who yesterday had saved four match points enroute defeating Davis Ferrer in the 4th Round came back from a set deficit & a break down in the 2nd set to reach his 2nd semi-final at an ATP 1000 masters tournament in his 25th masters tourney.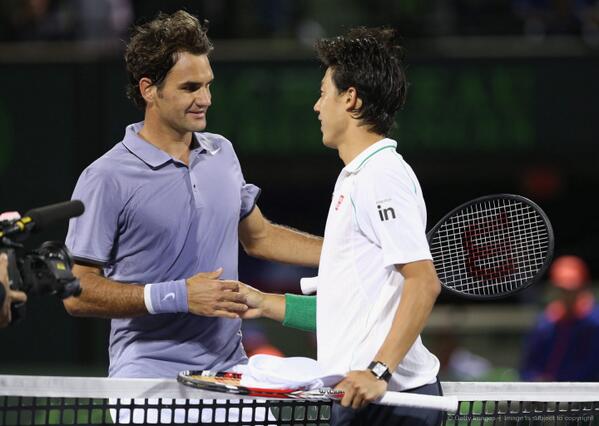 Quick update on Federer's ATP Ranking
A victory here for Roger Federer would have not only ensured place in his 50th semi-final at an ATP Masters tourney but also guaranteed that Federer would have reached back Top-4 ATP Rankings after almost 9 months.
Roger Federer's chances of regaining Top-4 ATP Rankings are dependent on how Tomas Berdych fares at Miami. If Berdych manages to win the Sony Open Tennis title, then Federer would stay at #5 & if Berdych doesn't win the title, then Roger Federer will guaranteed return back to #4 in the ATP rankings. Read an in-depth explanation right here.
As it was a cool & breezy evening, Federer was spotted wearing a sleeveless sweater during the warm-up.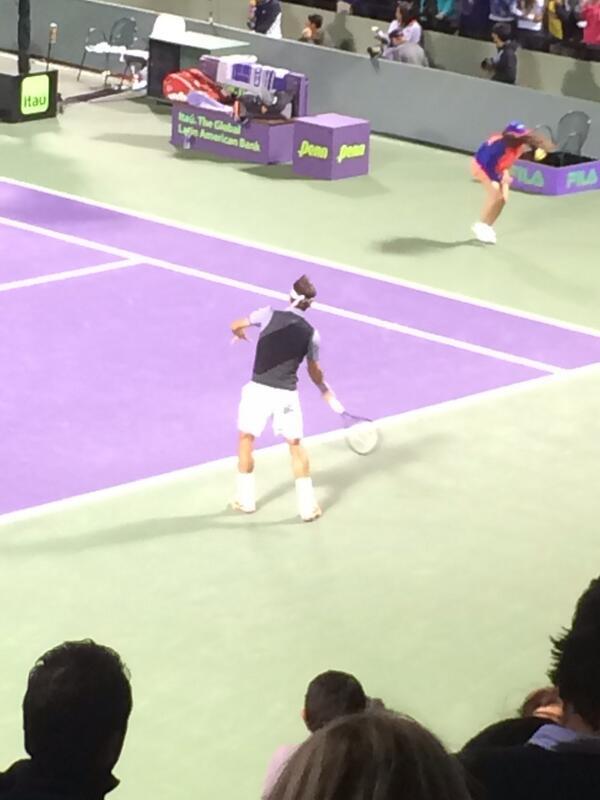 Federer was spotted wearing this sweater for the first time after Hamburg, 2013 (July, 2013). Pic credit: BrainGameTennis (Craig O'Shannessy)
Set-1
The swiss maestro started from where he left off yesterday vs Richard Gasquet. His first three service games were absolutely flawless & he broke Nishikori's service in the 4th game to get to a 3-1 lead.
How ever, Nishikori got the break in the 7th game to bring it back to serve, but, Federer broke the Japanese right back to get to a 5-3 lead & then held on to his service to win the 1st set 6-3 in just 34 minutes.
Here are the 1st set stats ----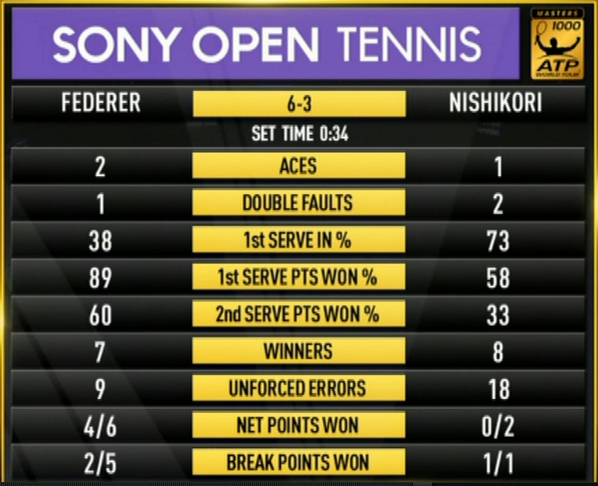 Clearly, Federer's 38% 1st serves in was a cause of concern even during the 1st set, but still his overall game especially his return game & his forehand & backhands looked spot on & that's why, he managed to win the 1st set without any difficulty.
2nd Set
Federer's 1st serve absolutely deserted him in the 2nd set. Inspite of being able to break Nishikori's serve in the 3rd game & then in the 7th game, the Japanese managed to break back immediately in the 4th game & 8th game to make it 4-all.
Federer's 1st serve % till that stage stood at a mere 43% & that was the primary reason, why his service looked under threat, unlike the previous 3 matches.
Federer's confidence started to dip a bit & he started shanking, missing a lot of backhands & even, forehands.
The 24 year old Japanese once again broke Federer's service (his 3rd break of the set) to win the 2nd set 7-5 in 49 mins.
Here are the 2nd set stats ------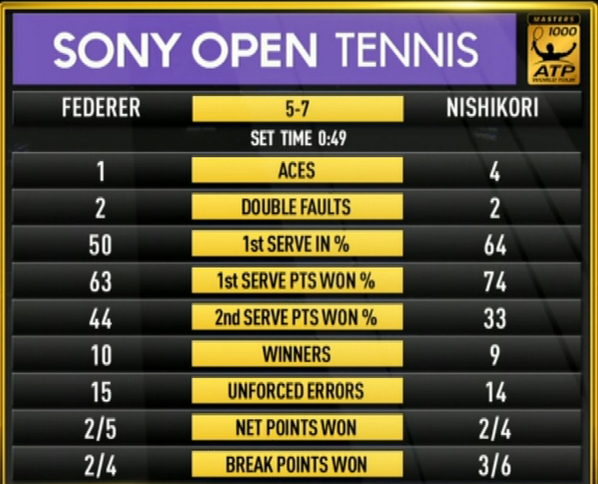 Federer was up a break twice in the set but his 1st serve absolute deserted him & that allowed, Nishikori to break back twice & win the 2nd set 7-5
3rd Set
Nishikori had all the momentum going in to the 3rd set. Federer's game started to crack. He was shanking a lot of balls on both sides. Though, his 1st serve % improved in the 3rd set, but, still, Nishikori never looked like in pressure in the 3rd set.
Federer managed to save 2 break points in the 4th game to make it 2-all.
How ever, the Japanese broke Federer's service in the 10 game on his 3rd match point with a backhand winner to beat Federer for the 2nd time in 3 matches.
The end score-line read 3-6, 7-5, 6-4 in favor of Kei Nishikori & here are the overall match stats -----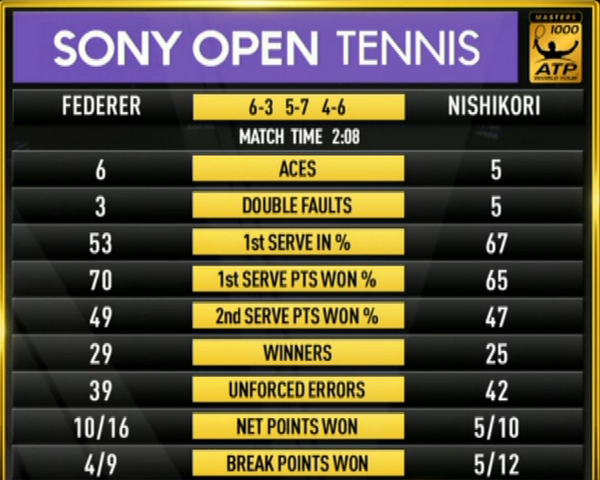 Clearly, Federer's 1st serve % stood at a mere 53% & that was the primary reason, why he lost his service 5 times during the match.
This was Federer's 4th successive loss (in 2010 lost to Berdych, 2011 to Nadal, 2012 to Andy Roddick) at Miami in an evening/night match & after the match in his post match press conference, he stated that he finds the lights at the center court at Miami a bit unusual & looks like a boxing ring to him.
Federer next outing will be at Davis Cup's Quarter-final tie vs Kazakhstan starting from 4th April in Geneva, Switzerland.
Scroll down for more pics, video highlights & more insights from the match.