Roger Federer reached the Quarter-finals of Monte Carlo Rolex Masters for the 7th time (in his 11th appearance) overcoming a stiff resistance from Lukas Rosol especially in the 1st set as he won 6-4, 6-1 in 57 minutes to set up a QF clash vs Jo-Wilfried Tsonga.
This is the 66th time that Roger Federer has reached the Quarter-Final of an ATP 1000 masters tournament in his 109th appearance. The Swiss maestro has reached QF or beyond in 59.5% of the total masters tournaments played by him in his career.
1st Set
Lukas Rosol came out all guns blazing & was looking very sharp on his forehand side. The Czech had break points on the opening service game, the Swiss managed to save those.
But, the Czech continued the pressure & broke Federer's service in the 3rd game after the Swiss double faulted to get to a 2-1 lead.
How ever, Federer broke back in the 8th game to make it 4-all & from there on, it was an absolute one sided battle.
From there on, Federer kept attacking the relatively weaker backhand side of Rosol & broke the Czech's service again in the 10th game to win the 1st set 6-4 in 33 minutes.
Here are the 1st set stats -----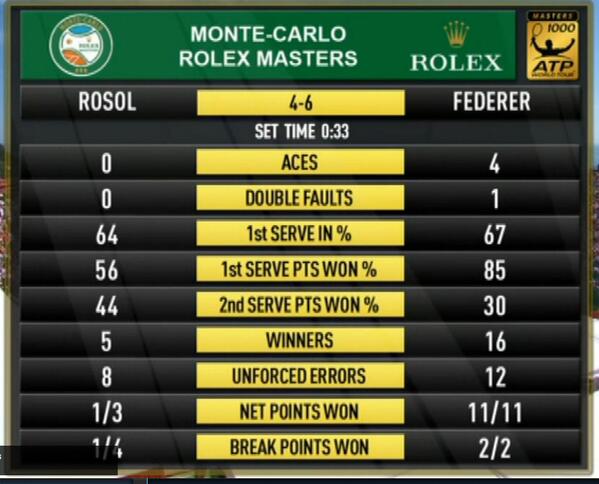 Screenshot via Danielle Mauron
Federer had slightly more unforced errors in the starting 5 games of the set & after his game settled, he started attacking the backhand side of the Czech & from there on, the match completely changed.
2nd set
Federer continued the momentum & broke the Czech's service in the 4th & 6th set to comfortably win the 2nd set 6-1 in just 24 minutes.
Here are the overall match stats ----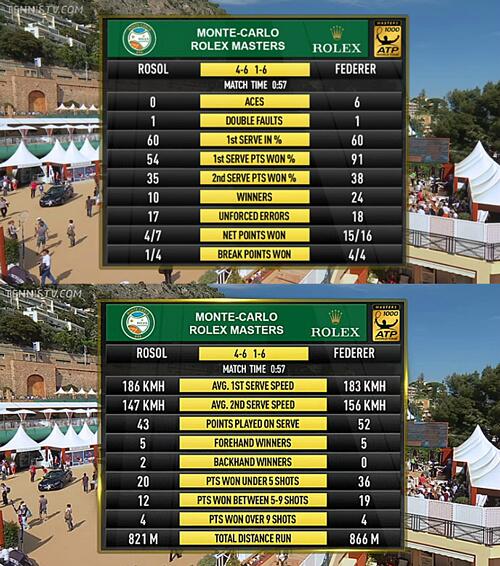 The highlight of the match was the match that he converted all 4 of his break points & in the 2 matches, he has converted all 8 break points.
Federer will face Tsonga in the 3rd match on Friday.
1st QF (10:30 am start time) will be Stan Wawrinka vs Raonic followed by Nadal vs Ferrer & then Federer vs Tsonga followed by Djokovic vs Garcia-Lopez (who had an upset win over Berdych).
Poem on Roger Federer: Form is Temporary, Class is Permanent.
Scroll down for more pictures, video highlights, insights, interview quotes from the match.