Roger Federer reached his 4th final at Monte Carlo Masters as he defeated Novak Djokovic 7-5, 6-2 in 1 hours and 14 minutes to set-up an all Swiss final vs Stanislas Wawrinka on Sunday.
This win ensured that Roger Federer reached his 36th final at an ATP 1000 Masters level tournament (in his 109th masters tourney) & overall his 117th career final.
Novak Djokovic had to cut his morning practice for just 15 minutes as his right forearm was highly strapped.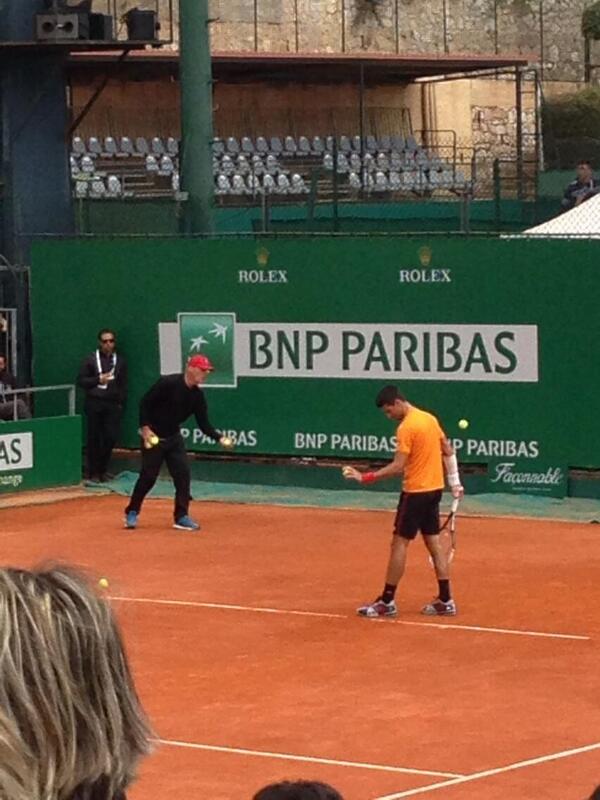 Novak Djokovic during today morning's practice. Pic by Annabell Croft
Novak Djokovic also came in to the match with his right forearm highly strapped
1st Set
The first set saw some great Tennis between these two. Djokovic gave a tough fight to Federer & had two break points (set points) in the 10th game of the 1st set. Federer how ever, managed to save those break points. Then, Federer broke Djokovic's service in the 11th game on his second break point to get to 6-5 lead.
Federer held on to his service in the 12th game to win the 1st set 7-5 in 48 minutes.
Here are the 1st set stats ---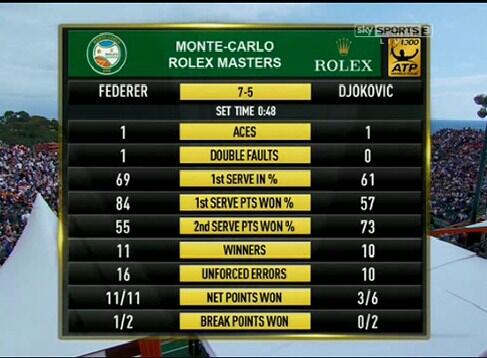 Federer's net game was spot on in the 1st set & he came to the net 11 times & was able to shorten the points. Djokovic gave Federer a good fight in the 1st set & even had two set points which he couldn't capitalize.
2nd Set
Unfortunately, Djokovic's wrist started giving him a lot of pain by that time. His game dropped & he struggled through out the 2nd set.
The Swiss broke the Serb's service in the 3rd & 5th game to get to a 4-1 lead. Federer then finished off the set & the match in the 8th game winning the 2nd set 6-2 in just 25 minutes.
Here are the overall match stats ----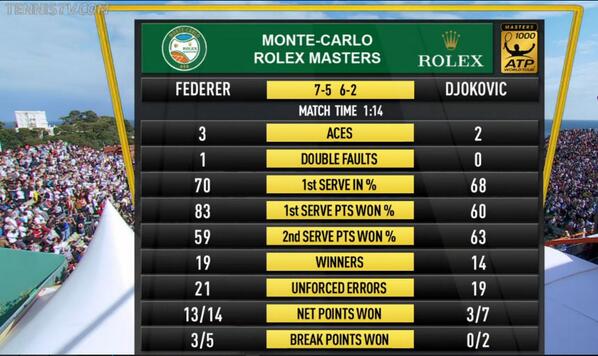 Roger Federer's 1st serve % for the match was 70% plus his net play was a big improvement today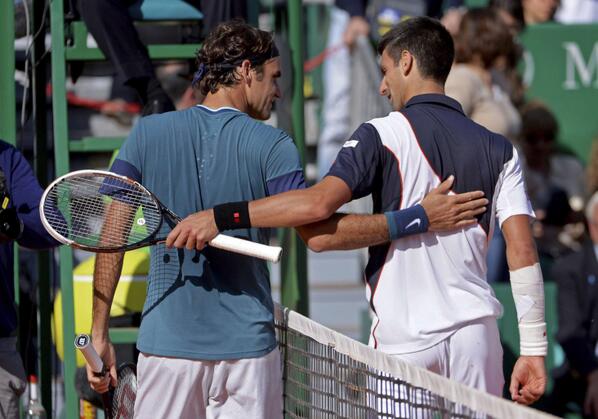 Picture of Federer & Djokovic after the match, Federer asked from Djokovic how his wrist was. Federer now leads the head to head 18-16 vs Novak Djokovic
Federer after the match stated, "I had the feeling he was not finishing off his shots with as much topspin as usual".
"Even at 90%, Novak is still strong and you still have to take your chances in the key moments, and there were some in the first set where I had tough moments."
Djokovic said: "It's unfortunate that when you're playing at this level against Roger, big tournament, that you are not able to play your game because something else is taking away all your energy."
The final between Federer & Wawrinka will be the 1st all Swiss final in 14 years. Last time, it was in 2000, Marseille that Marc Rosset had defeated Roger Federer.
Also, who so ever wins the final match will be the Swiss No. 1 & will get to #3 in the rankings on Monday post Monte Carlo. For detailed ATP ranking scenarios click here.
This will be the 1st final at Monte Carlo after 13 years where two single handed backhand players will play. The last time 2 single handed Back Handed players played in Monte Carlo final was on 22nd April,2001,when Gustavo Kuerten played Hicham Arazi.
This was Roger Federer's 28th win of 2014 (in 32 matches) & his 6th win over a Top-10 opponent in 2014 & with this win, he is 6-2 over Top-10 opponents in 2014.
By virtue of reaching the finals of Monte Carlo, this is the 13th consecutive year (starting from 2002) where Roger Federer has reached *at least* one final of a masters clay court event (erstwhile Hamburg Masters/ Madrid Masters or Rome Masters or Monte Carlo) or Roland Garros.
Scroll down for more pictures, video highlights, insights, interview quotes from the match.