Sadly, the grey Paris skies were to match the mood of Federer fans by the time the afternoon was over. It was not to be Roger's day and for the first time, after nine consecutive years, he would fail to reach the quarterfinals at Roland Garros.

There was a overwhelming round of applause as Roger walked onto the court and I must admit for this match my heart was pounding that little bit faster with nervous anticipation.





There was obviously a lot of support for Roger. Even as the players walked to the net for the coin toss, cries of "Roger, Roger, Roger ...." Echoed around the court.


Ernests Gulbis won the toss and elected to serve.
Federer was serving well, but rather worryingly was making far too many unforced errors, though there was a nod of approval from Stefan Edberg when Roger came to the net at 30 all in his second service game with a very quick short volley down to the ground to claim a point.





French crowd was very vocal and quick to boo when Gulbis queried a line call.

Games were going with serve, but then in Roger's third service game he double faulted to give deuce, then two unforced errors, firing shots into the net allowed Gulbis to break and take a 4-2 lead.

Federer breaks back in the next game with a huge cry of "Oh Yes" on the winning point. You could see he was trying to get himself into the groove.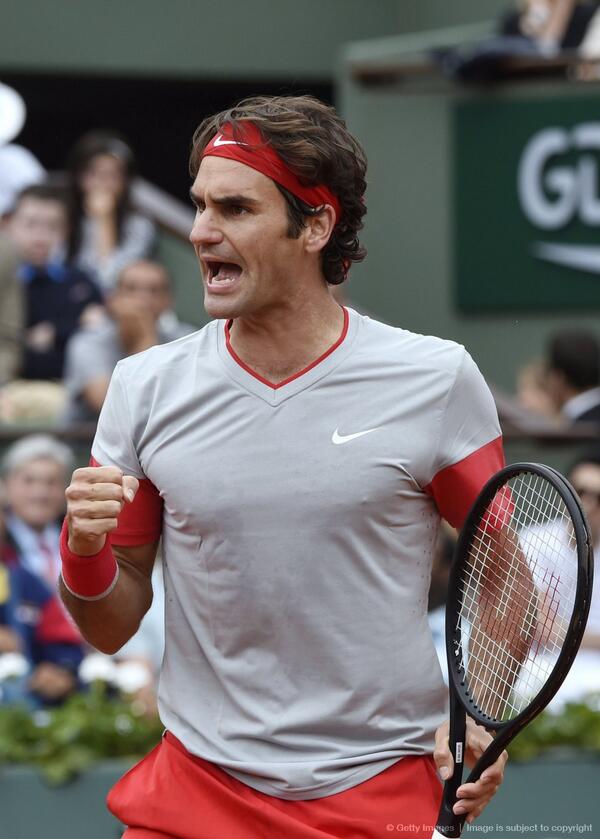 Photo: Dominique Faget, Getty Images



Roger's next service game started with a double fault and then an unforced error loses the next point so he is down love 30. It was clear that he was not on top form today. He seemed generally flat and was far more vocal than he normal, presumably to get himself fired up. In this set he seems to be struggling with his serve with 3 consecutive "net" calls. He held on to win his game 4-4 but it was by no means a smooth run. Errors kept coming. It was worrying to watch and must have been so frustrating for Roger.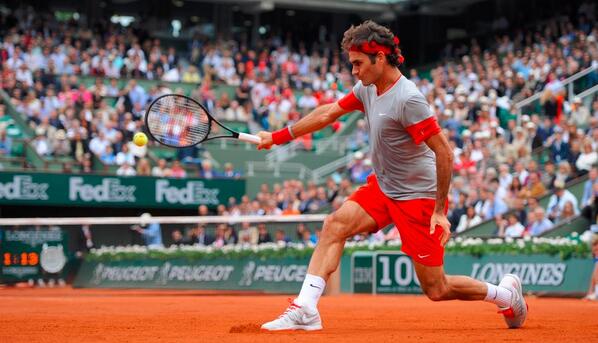 Photo: Roland Garros



Gulbis keeps up the pressure and set goes to a tie break. There was a huge cry of "Come On!" from Roger as he won this tie break & 1st set.




Second Set


Federer was first to serve second set and Gulbis breaks, then Federer breaks back in the next game. At the sit down Roger has words with chair umpire about a how a line call was missed.

Federer breaks to 5-3. Serves for set but cannot do it, Gulbis breaks then holds so it's back on serve. So frustrating! At 5-5 deuce, Gulbis gets a code violation for breaking his racquet in fact he stamped on it! Then followed a huge cheer when Federer won the game and held his serve. Oh why couldn't he do this last time then this set would have been won! But errors from Federer meant this set went to another tie break. Which Gulbis wins 7-6 (7-3)




Third Set


Gulbis to serve first. Federer wins first point and again shouts "Come on!" He is desperately trying to get himself fired up. But yet more errors from Roger gives Gulbis the beak to 4-2

Despite all this, Ernest's Gulbis was making errors too, it is a tense and close match really, belied by the scoreline at times. Maybe Roger is feeling the weight of history on his shoulders and is trying too hard. Whatever it was he was struggling to find his form out there today.


Photo: Roland Garros



After a brutal 27 shot rally Gulbis takes 5-2 lead. Then yet another unforced error hands the third set to Gulbis 6-2

Roger was looking very flat at the end of that set. Losing that second set took it out of him mentally I fear. He must have known what he wanted to do but for whatever reason it just was not working out right for him at the moment.




Fourth Set


Gulbis to serve first. Roger giving himself more vocal encouragement. He breaks to take 3-2 lead. Federer holds serve. A shot from Gulbis hits the net and bounces just out. The chair umpire comes down to have a look and calls it out. Federer breaks to 5-2

Then I have to wonder whether injury or gamesmanship. The Trainer is called out to Gulbis. He indicates a back problem and leaves the court for a medical time out.

This obviously disrupts the flow of current winning momentum which Federer has finally achieved. He waits somewhat impatiently at the baseline for Gulbis to return and you can see Roger is not happy.

On his return to the court Gulbis proceeds to break Roger 5-3 and to be honest I would not have known he had an injury sufficient to need treatment as he was serving powerfully and moving well. But thankfully Federer takes the set 6-4




Fifth Set


Gulbis to serve first. It would appear that Roger is still dwelling on the goings on in the last set. He appears annoyed and distracted, which is unlike him. Gulbis looks absolutely fine, he breaks Roger's first service game. Federer holds to just be one break down 1-3 but does not manage to break back this time, leaving it for Gulbis to serve for match at 5-3

You can tell by the cries in the crowd they want Roger to Break here.


In an interview before the match Ernests Gulbis had said that he had "a strategy" worked out for this match. I am left wondering exactly what that involved ....

OK I may be biased. I am a Federer Fan after all!
Roland Garros will not have that special spark for me now, it has been snuffed out.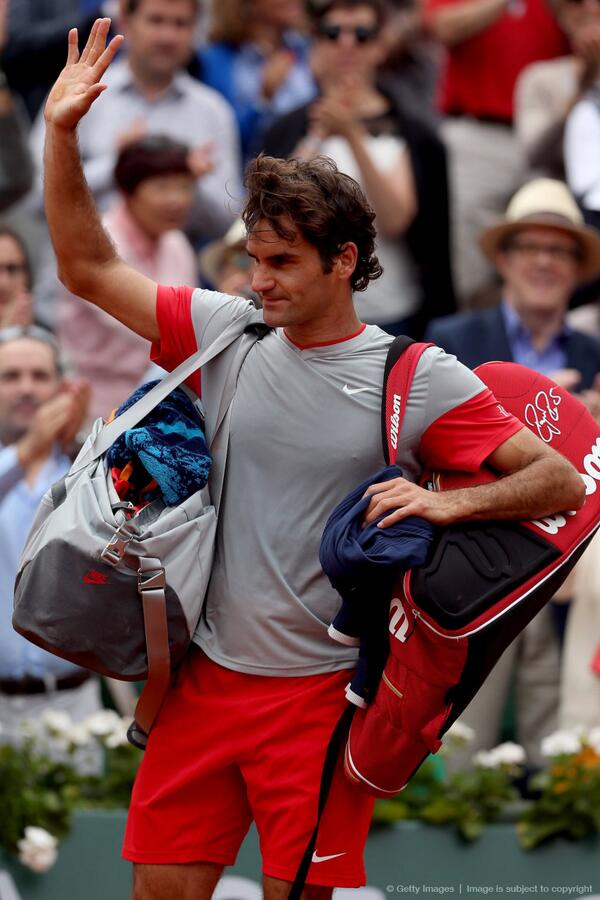 Photo: Matthew Stockman, Getty Images