Roger Federer won his 46th match at Halle ,his 125th match win on grass & 957th career match win to capture the Gerry Webber Open title for a record 7th time as he defeated Alejandro Falla 7-6 (2), 7-6(3) in 1 hour & 28 minutes.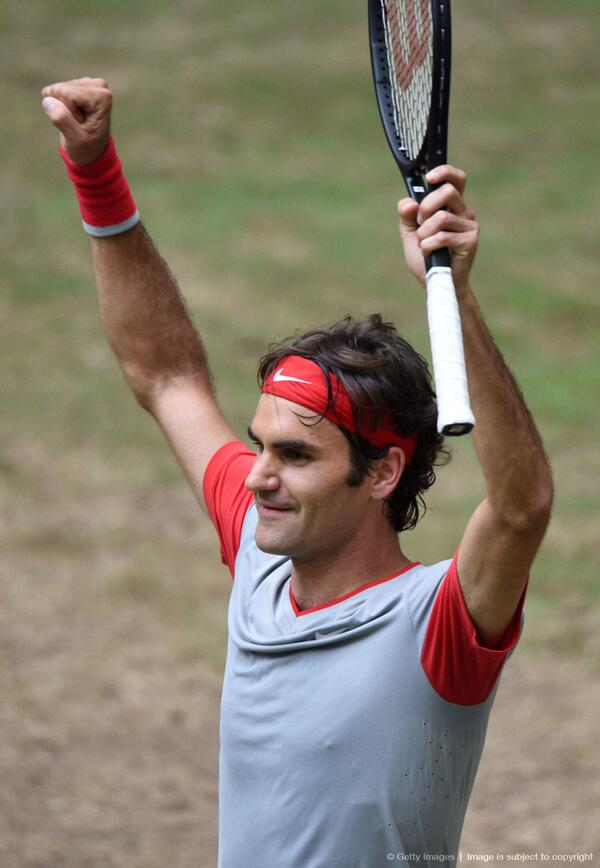 Pic copyright: Getty Images
This is Roger Federer's 14th title on grass (holds the record of most number of titles on grass in the open era) & overall, his 79th career title. Also, this is the first title that Federer has succeeded to defend since World Tour Finals, 2011.
1st Set
The 30 year old Colombian gave Federer a tough fight. Federer got the 1st break in the 8th game, but Falla immediately broke Federer to make it 5-4. The first set went to a tie-breaker & Federer won the tie-breaker comfortably 7-2.
This was the 10th tiebreaker that Federer won in 2014.
2nd Set
Federer broke Falla's service in the opening game, but the Colombian got the break back in the very next game.
After that, there was no service breaks & the 2nd set also went in to a tie-breaker & Federer once again comfortably won the Tie breaker 7-3. This was Federer's 11th tie-breaker win of 2014, he is now 11-10 in 2014 tie-breakers.
For the first time in his career, Roger Federer won a final match in 2 tie-breakers.
From 2015, Gerry Weber Open, Halle & Aegon Championship, Queens are getting upgraded to ATP-500 level tournaments..
Here are the Match stats ---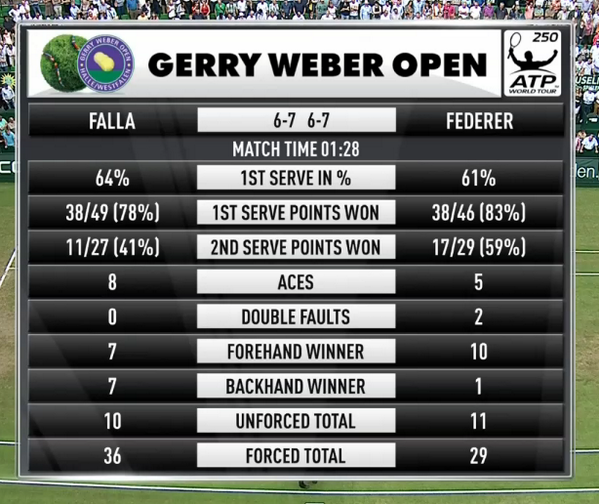 After this title win, Halle stands joint 1st in terms of most title wins by Roger Federer, here's a list of titles which Roger Federer has won 5 or more times :
(i) Wimbledon - 7 times
(ii) Halle - 7 times
(iii) Dubai Open- 6 times
(iv) World Tour Finals - 6 times
(v) US Open - 5 times
(vi) Swiss Indoors, Basel - 5 times
(vii) Cincinnati Masters - 5 times
Scroll down for more insights, pics, video highlights & recording of the match.