Roger Federer produced an absolute masterful display of all round Tennis as he hit 25 aces, 44 winners and just five unforced errors defeating Gilles Muller 6-3, 7-5, 6-3 in 1 hour & 34 minutes to reach the Round-3 of Wimbledon for the 12th time in his 16th appearance at the championships.
Some Key Stats from the match ::::
69th match win at Wimbledon
127th match win on Grass court
959th career match win
1500th ace on grass court - only the 3rd man after Goran Ivanisevic & Ivo Karlovic (aces counted post 1989)
54th time when Roger Federer has reached Round-3 of a major.
Federer is now 54-1 in Round-2 of majors.
100th match win against Left Handers in his 135th match vs Lefties
Federer has now won 90 matches in 102 matches vs Left handed opponents not named Rafael Nadal.
This was the 7th time in a major (slam) when Roger Federer hit 25 or more aces in a match & 1st time, after the Wimbledon 2009 final vs Andy Roddick when Federer had hit 50 aces.
Federer has beaten Muller thrice before - Indian Wells 2005, Bangkok 2005 & US Open, 2008. All these three times, Federer went on to win those three titles after beating Muller.
1st Set
Federer's service looked absolutely flawless & the 30 year old Muller had no answers to Federer's service. The Swiss maestro broke Muller's service in the 5th game & that one break of serve was sufficient as Federer served out the set (in the 9th game) winning the set 6-3 in just 23 minutes.
Here are the 1st set stats ----
2nd set
The first 7 games went on serve. The play had to be suspended after the 7th game because of heavy rain. For the first time in the tournament, the roof was closed on the Center Court. The next 4 games went on service & Federer managed to break Muller's serve in the 12th game to win the 2nd set 7-5.
The 2nd set lasted 39 minutes & here are the 2nd set stats ----
3rd set
Federer got the 1st break in the 4th game after Muller double faulted to give Federer a 3-1 lead. That one break of service was again sufficient as Federer served out the match in the 9th game of the 3rd set winning the set in 39 minutes.
Here are the overall match stats -----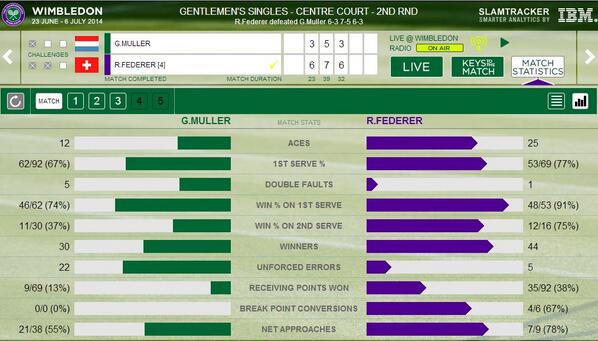 Scroll down for more pics, video highlights, interview quotes, more insights from the match.