Roger Federer produced another masterful display of Tennis as he avenged his 2014 US Open Round-4 defeat by defeating Tommy Robredo 6-1, 6-4, 6-4 in an hour and 36 minutes to reach the QF of Wimbledon for the 12th time in his 16th appearance at the championships.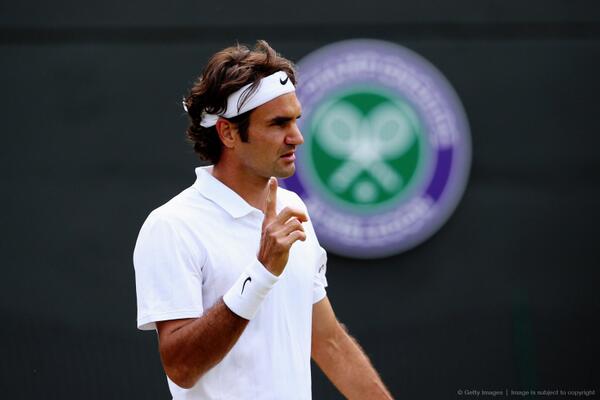 Some Key Stats from the match :::
71st match win at Wimbledon equaled him with Boris Becker for the most number of match wins... (Jimmy Connors has the most number of match wins at Wimbledon with 84), followed by Sampras who had 63 wins and McEnroe had 59 wins at SW 19.
42nd time when Roger Federer has reached the Quarter-finals of a major. He held this record jointly with Connors. The others in the list are Jimmy Connors: 41, Andre Agassi: 36, Ivan Lendl: 34, Novak Djokovic: 29, Pete Sampras: 27 & Rafael Nadal: 27.
Federer now holds the record of winning the most number of Round 1, Round-2, Round-3, Round-4, Quarter-finals, Semi-finals, Finals & winning titles at Majors.
12th successive 4th Round match that Federer has played and won at Wimbledon in his 16 championships.
Federer is now 42-8 in 4th Round matches at majors.
Federer is the only player to reach quarter-final without dropping service even once.
129th match win on grass courts
961st career match win.
860th match win against a right handed opponent. Federer is 860-187 against right handed opponents.
50 aces at Wimbledon 2014, 14th man in 2014 to achieve the feat of 50 aces at Wimbledon 2014.
1st Set
Federer broke Robredo's service twice in the opening set to comfortably win the 1st set 6-1 in just 21 minutes.
Here are the 1st set stats ----
2nd Set
Federer won the first nine points of the set, but the Spaniard showed some fine resistance and that one break of service was enough as Federer wrapped up the 2nd set 6-4 in 32 minutes.
Here are the 2nd set stats ----
3rd Set
The 3rd set was the most competitive set of Tennis. The first 6 games went on service. But, the Swiss maestro got the break in the 7th game & that one break of service proved enough as Federer wrapped up the 3rd set and the match in the 10th game winning the set 6-4 in 41 minutes.
Here are the overall match stats --------
Roger Federer will face Stan Wawrinka in the QF in the 3rd match at Center Court on Wednesday
Scroll down for more pics, video highlights, interview quotes, more insights from the match.