Roger Federer battled back after losing the 1st set to beat Stan Wawrinka 3-6, 7-6 (5), 6-4, 6-4 in 2 hours & 33 minutes to reach the Semi-Final of Wimbledon for the 9th time in his 16th appearance at the championships.
Some Key Stats from the match :::
72nd match win at Wimbledon, he is now #2 in terms of most match wins at Wimbledon. Jimmy Connors has the most number of match wins at Wimbledon with 84, followed by Federer with 72, Becker with 71, Sampras with 63 wins and McEnroe had 59 wins at SW 19.
35th time when Roger Federer has reached the Semi-finals of a major. Federer already holds the record of winning the most number of Round 1, Round-2, Round-3, Round-4, Quarter-finals, Semi-finals, Finals & winning titles at Majors.
Federer holds the record of having reached the most number of 35 semi-finals at Majors, followed by Connors: 31, Lendl: 28, Agassi: 26, Djokovic , Nadal, Sampras (all three are on) : 23..
Federer is now 9-3 in Quarter-Finals matches at Wimbledon (playing in his 16th championships).
Federer is now 35-7 in the Quarter-Final matches at majors.
Federer is the only player to reach semi-final of Wimbledon 2014 after having dropped service just once in 5 matches. Going in to semi-finals, #Federer has held service 73 out of 74, #Raonic held 84 out of 86, #Dimitrov held 77 out of 80 &

#

Djokovic 81 out of 86
130th match win on grass courts
962nd career match win.
861st match win against a right handed opponent. Federer is 861-187 against right handed opponents.
Roger Federer is 24-10 in the semi-finals of majors & he is 8-0 in the semi-finals @ Wimbledon.
Ranking Scenario ::::
Roger Federer will regain #3 ATP ranking & become the Swiss #1 after 5 months, if he reaches the final of Wimbledon, read more about it here.
Federer will regain Swiss #1 ranking after 5 months if he wins his semi-final match at Wimbledon, 2014
2-July-2001 or exactly 13 years or some 113,955 hours before this QF match started, Federer was involved in another thrilling 4th Round match against the legendary 7 time Wimbledon champion Pete Sampras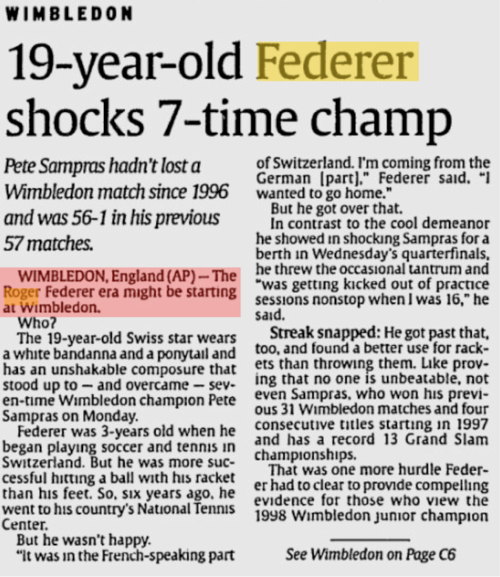 Newspaper cutting from the day when Federer defeated Sampras (on 2nd July, 2001) to reach his 1st ever Wimbledon Quarter-final
1st Set
Wawrinka started aggressively & got the 1st break of the match in the 4th game. This was the 1st time in 5 matches at Wimbledon when Federer's service got broken.
That one break was sufficient as Wawrinka won the 1st set 6-3 in 30 minutes.
2nd Set
There were no breaks of service in the 2nd set, the 2nd set went to tie-breaker. Federer won the tie-breaker 7-5. The set lasted 48 minutes.
3rd Set
Wawrinka's intensity dropped after the 6th game as he clearly started to look exhausted as he was playing the 3rd match in as many days. Stan's service got broken in the 7th game & that break of service was sufficient as Federer served out the 3rd set in the 10th game winning the set 6-4 in 33 minutes.
4th Set
Federer got the early break in the 3rd game. Wawrinka tried his level best to get the break back. Things got very dramatic in the end as Wawrinka saved three match points, but Federer finally won the match on his 4th match point.
Here are the overall match stats -----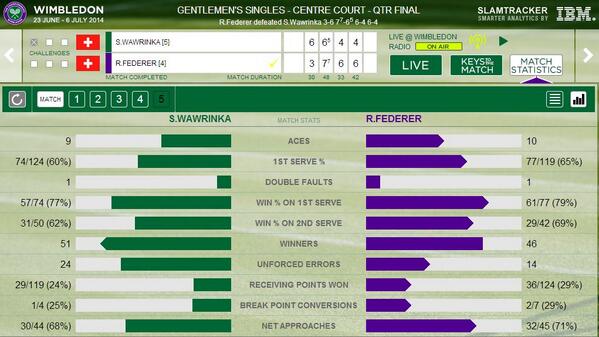 Federer will face Milos Raonic in the semi-finals on Friday. Federer leads the head to head 4-0 vs Raonic
while Novak Djokovic will face Grigor Dimitrov in the other semi-final.
Scroll down for more pics, video highlights, interview quotes, more insights from the match.