Seven time champion Roger Federer eased past the Canadian Milos Raonic 6-4 6-4 6-4 in an hour and 42 minutes to reach the final of Wimbledon for the 9th time in his 16th appearance at the championships.
Roger Federer at the age of 32 years, 10 months & 26 days became the oldest man after Andre Agassi to reach the final of a major & third oldest Wimbledon finalist
The final between Novak Djokovic and Roger Federer will be the 1st ever Wimbledon final of this millennium where in two former Wimbledon champions will feature. The last time, two Wimbledon champions had played in the final was in 1999 when Andre Agassi played against Pete Sampras.
Some Key Stats from the match :::
Federer's 73rd match win at Wimbledon. Only, Jimmy Connors with 84 wins is ahead of Federer, followed by Becker with 71 wubs, Sampras with 63 wins and McEnroe had 59 wins at SW 19.
25th time when Roger Federer has reached the finals at majors. Federer already holds the record of winning the most number of Round 1, Round-2, Round-3, Round-4, Quarter-finals, Semi-finals, Finals & winning titles at Majors.
Federer already holds the record of having reached the most number of finals at Majors, followed by Rafa Nadal with 20 finals, Ivan Lendl 19 finals, Sampras: 18 finals, Bjorn Borg: 16 finals, Jimmy Connors & Andre Agassi: 15 & Novak Djokovic today reached his 14th major final.
Federer is now 9-0 in Semi-Finals matches at Wimbledon (playing in his 16th championships).
Federer is now 25-10 in Semi-Final matches at majors.
Federer for the second time in his career has reached Wimbledon final after having dropped service just once in 6 matches. Last time, he reached finals after having dropped just once was in 2004. Going in to finals, #Federer has held service 88 out of 89 service games, Djokovic 99 out of 107 service games.
This was Federer's 9th successive win over a Canadian opponent.
131st match win on grass courts
963rd career match win.
862st match win against a right handed opponent. Federer is 862-187 against right handed opponents.
Roger Federer is 17-7 in the finals of majors & he is 7-1 in the finals @ Wimbledon.
119th career final that Roger Federer has reached. Federer is the 3rd in the list of open era players in terms of most finals played. The first in the list is Jimmy Connors with 163 finals, followed by Ivan Lendl with 146 finals. John McEnroe with 108 finals is 4th in the list, 5th is Vilas with 102 finals, 6th is Ilie Nastase with 93 finals, 7th is Rafa Nadal with 92 finals, 8th is Andre Agassi with 90 finals while Pete Sampras and Bjorn Borg were on 88 finals. It will be Djokovic's 67th career final on Sunday.
Ranking Scenario ::::
Roger Federer with this win is back to #3 in the ATP Ranking & has regained Swiss #1 ranking from Stan Wawrinka after 5 months. Read more about it here.
If Novak Djokovic wins Wimbledon title, he will regain #1 ranking from Rafa Nadal after 40 weeks, read more about it in details right here.
Another interesting stat ---
Irrespective of who ever wins on Sunday, this will be the 15th time (with the exception of French Open, 2011) in the last 16 majors (including last 4 Wimbledon championship) that the winner will either be Novak Djokovic or the guy who defeated him during any stage of the major.
1st Set
Federer got the break in the opening service game of the set and that pretty much set the tone for the match. This opening service game was just the 3rd time in 87 service games that Milos Raonic's service got broken during the 2014 championships. Federer faced just one break point in the set and infact the match in the 8th game, which he comfortably saved.
That one break of serve was sufficient as Federer won the 1st set 6-4 in 34 minutes.
2nd Set
The first 8 games went on serve with no break points. Federer got the all important break in the 9th game and then once again, comfortably served out the 2nd set 6-4 in 34 minutes.
3rd Set
The 3rd set was a carbon copy of the 2nd set. The first 8 games once again went on serve with no break points. Federer once again got the all important break in the 9th game and wasted absolutely no time, as he served out the set and the match in the 10th game winning the 3rd set in 33 minutes.
Here are the overall match stats ---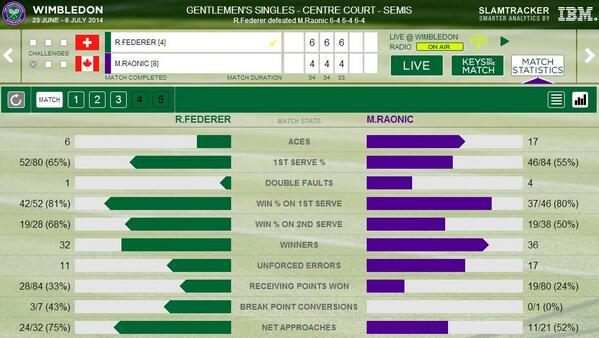 Roger Federer after the match stated, "I am very happy, I look very concentrated but I am incredibly happy to be in another final. I expect a lot of myself here. As the tournament went on I played better. That I have been able to play so successfully here for so many years has been an absolute thrill."
Roger Federer on Djokovic: "We always play great matches against eachother. He's a great champion, and he's already got the trophy here as well."
Scroll down for more pics, video highlights, interview quotes, more insights from the match.