Roger Federer eased past the 26 year old Canadian wildcard Peter Polansky 6-2, 6-0 in just 51 minutes to reach the Round-3 of Rogers Cup, 2014.
Roger Federer (in picture) played his first match with his new red colored paintjob 97 sq inch Wilson Tennis racket
1st Set
Roger Federer playing in his 1st match since the Wimbledon final, broke his opponents service in the opening game, but, he got broken back the very next game. How ever, Federer once again broke the Canadian's service in the next game to get to 2-1 lead. From there on, it was an absolute one way match as Federer once again broke Peter Polansky's service in the 5th game to get to a 4-1 lead. Federer then served out the set in the 8th game winning the set 6-2 in just 25 minutes.
2nd Set
The second set was even more comfortable. The Swiss maestro broke the Canadian's service in the 1st, 3rd and 5th game and comfortably held his service to win the set 6-0 in 26 minutes.
The end score-line read 6-2, 6-0 and here are the match stats ----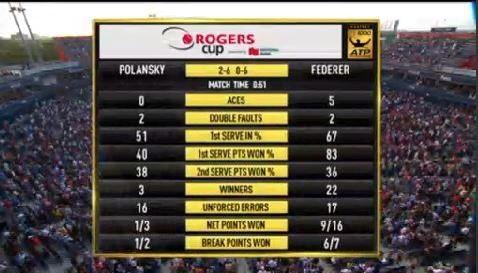 Screenshot credit: M Teresa Buscalia
Roger Federer will play the winner of Malik Jaziri vs Marin Cilic match in his 3rd round match on Thursday.
Scroll down for more pics, video highlights, interview quotes, more insights from the match.