Roger Federer reached the finals of Rogers Cup for the 5th time as he eased past Feliciano Lopez 6-3, 6-4 in 82 minutes to set up the title clash vs Jo-wilfried Tsonga.
With this win, Roger Federer ensured his spot in the season ending World Tour Finals at O2 arena, London for the 13th straight year, though, ATP will wait till Cincinnati Masters before officially announcing his qualification. Federer will equal Agassi's feat of appearing at 13 World Tour Final in November. Agassi leads the pack with 13 appearances, followed by Federer & Lendl on 12, while Sampras, Becker & Connors had 11 appearances at the season ending masters cup (WTF).
1st Set
Federer got his opening break in the 4th game on his 7th break point to get to a 3-1 lead. That one break of service was enough as he served out the set in the 9th game winning the 1st set 6-3 in 44 minutes.
Here are the 1st set stats ----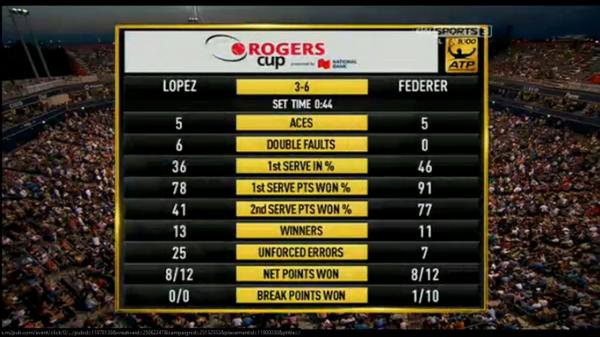 2nd Set
The Swiss broke the Spaniard's service in the opening game and from there on, it was an one sided match as Federer served out the set and the match in the 10th game winning the 2nd set 6-4 in 38 minutes.
Here are the overall match stats -----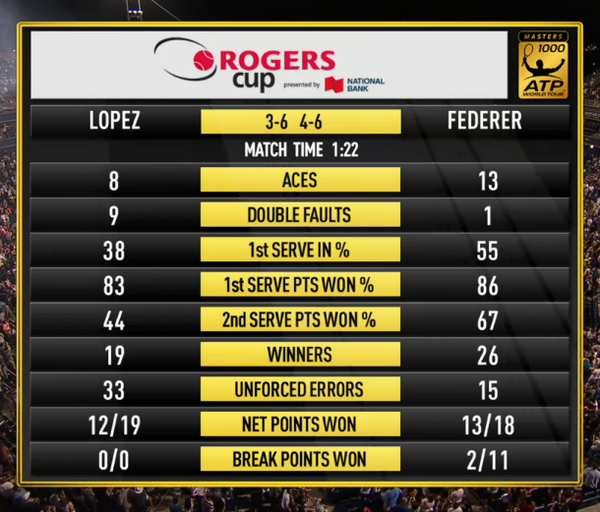 This was Federer's 11th consecutive win vs Lopez.
Some stats from the match :
Roger Federer's 967th overall career match win.
Federer's 101st match win against left handed opponents. Federer is 101-35 vs lefties.
Federer's 299th match win at an ATP-1000 masters tournament level.
This is the 5th time in 12 appearances at Rogers Cup, when Federer has reached Finals of Toronto/Montreal.
This is the 37th time, when Federer has reached finals of an ATP 1000 Masters tournament. He is now 37-14 in semi-final matches at ATP-1000 masters tournament & 5-1 at Rogers Cup SF.
Tomorrow's final vs Tsonga's will be Federer's 37th final appearance in ATP 1000 Masters tournament in 112 appearances.
The following is the leader-board in terms of Finals at masters : Nadal: 40 in 82, Federer 37 in 112, Djokovic: 29 in 74, Murray: 12 in 73.
Sunday's final will be Federer's 120th career singles final, he is 79-40 in singles finals till date.
Federer's 11th successive win over Lopez
Scroll down for more pics, video highlights, interview quotes, more insights from the match.