Jo-Wilfried Tsonga became the 2nd man after Rafael Nadal (Hamburg, 2008) to have defeated Djokovic, Murray and Federer at a tournament as he defeated Roger Federer 7-5, 7-6 in the Rogers Cup final in an hour and 47 minutes to capture his 2nd ATP 1000 Masters and his 11th career singles title.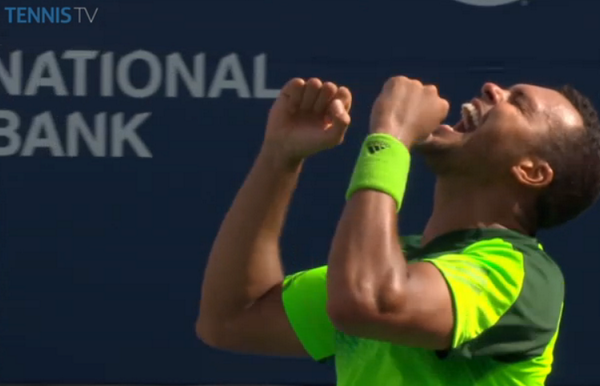 1st Set
Federer was playing the first day match of the tournament. His game didn't look as sharp as it did during the tournament. Inspite of that, he managed to hold his first 5 service games without facing a break point.
The French man who has had a mediocre 2014 got his 1st break point in the 12th game and immediately capitalized on it to win the 1st set 7-5 in 43 minutes.
Here are the 1st set stats ---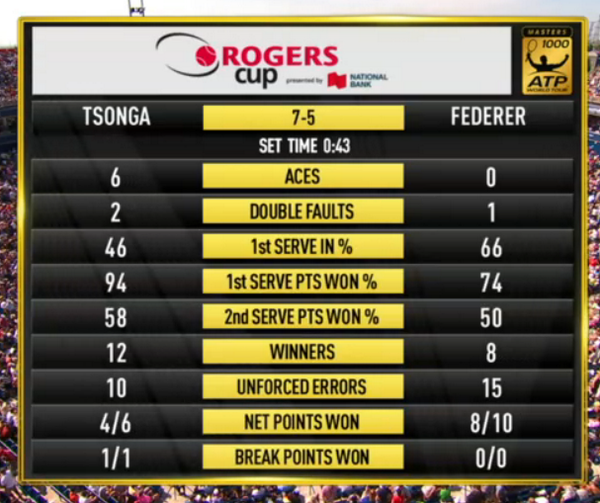 2nd Set
The Swiss was unable to put any pressure on Tsonga's service even in the 2nd set. While, the French man had break points in the 6th game (one), 8th game (four) & 10th game (one : match point for Tsonga). Federer managed to save those and the 2nd set went to the Tie-breaker.
The first six points of the TB were split between the two, but Tsonga got the first mini break and then won the next three points to win the tie-breaker 7-3.
Here are the match stats ---------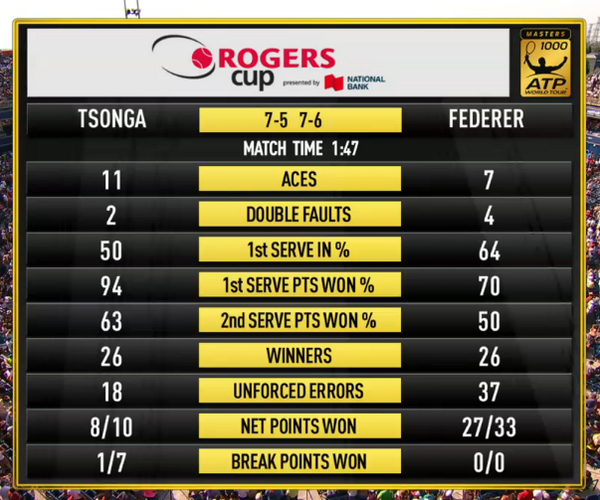 Clearly, the change in conditions, court speed during the day vis-a-vis the earlier night matches that Federer played impacted his play.
With this win, Jo-Wilfried Tsonga :::
Back to Top 10 in the Rankings after 5 months and Juan Martin Del Potro is out of Top 10 after 26 months.
Became the 2nd man after Rafa Nadal to have beaten Murray, Djokovic, Federer in a tournament in a week's time.
The 1st man after

Guillermo Cañas

(Canada 2002) to have beaten four Top-10 players (Djokovic, Murray, Dimitrov, Federer) in a week's time to win a tournament.
Back to #11 in the Race to London ranking & back as a contender for qualifying for WTF.
First French man ever to have won a title in the 133 year history of Rogers Cup.
Now the 7th man in last 5 & half yrs (last 51 #ATP1000 masters) to win an ATP 1000 Masters title other than the #Big4.. Other 6 being: Stan Wawrinka, David Ferrer, Robin Soderling, Andy Roddick, Ivan Ljubicic, Nikolay Davydenko.
Only the 3rd man in the last 42 months or the last 32 ATP 1000 Masters tourney (others being: Ferrer and Wawrinka) to win ATP 1000 masters title other than the Big 4.
Scroll down for more pics, video highlights, interview quotes, more insights from the match.