Roger Federer reached his 4th consecutive final (Halle, Wimbledon, Toronoto & Cincinnati) as he schooled Milos Raonic 6-2, 6-3 in an hour and 7 minutes.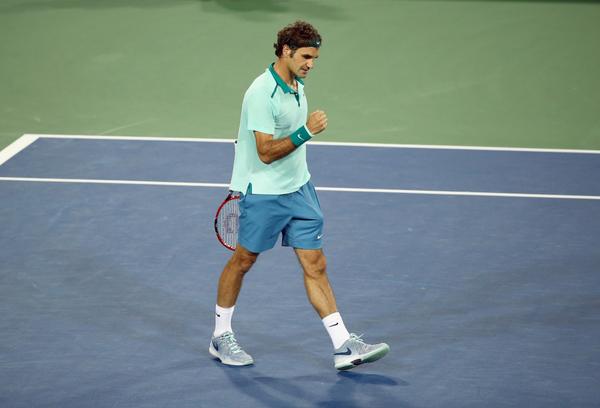 pic: Andy Lyons/Getty Images
Set-1
Federer played an almost perfect set as he didn't even lose a single point on his 4 service games and converted both of his break points to break Raonic's service in the 2nd and 8th game to comfortably win the first set 6-2 in 27 minutes.
Here are the first set stats ----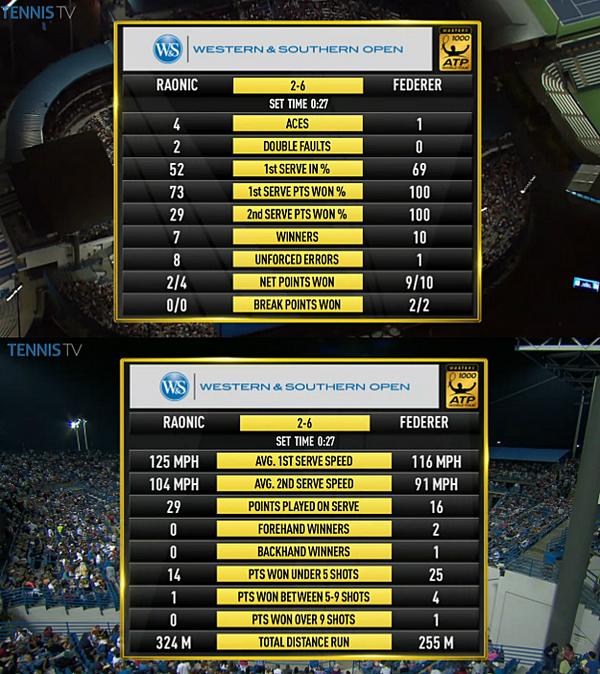 2nd Set
Raonic had a couple of 0-30 leads on Federer's service in the 2nd set, but, Federer managed to hold his service games comfortably & faced just one break point in the opening service game of the 2nd set.
Federer broke the Canadian's service in the 8th game on his 3rd break point and then comfortably served out the match in the 9th game winning the set in 40 minutes.
Here are the match stats --------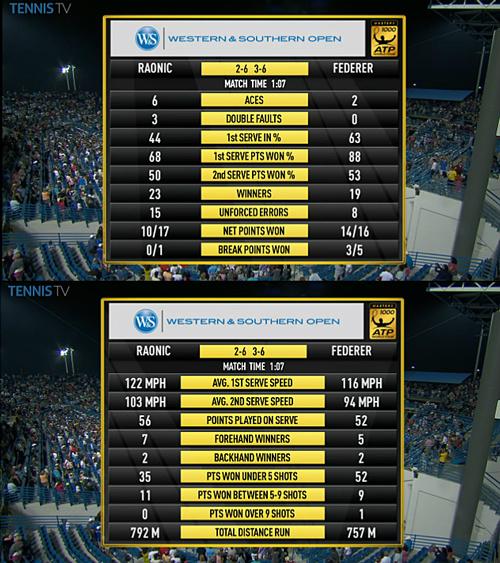 Some stats from the match :
Roger Federer's 971st overall career match win.
Federer's 870th match win against right handed opponents
Federer's 303rd match win at an ATP-1000 masters tournament level.
This is the 6th time in 15 appearances at Cincinnati, when Federer has reached final of Cincy Masters.
Federer is 5-0 in the finals of Cincinnati.
Tomorrow's final vs David Ferrer will be Federer's 38th final appearance in ATP 1000 Masters tournament in 113 appearances. He is 21-16 in finals.
The following is the leader-board in terms of Finals at masters : Nadal: 40 in 82, Federer 38 in 113, Djokovic: 29 in 75, Murray: 12 in 74.
Sunday's final will be Federer's 121st career singles final, he is 79-41 in singles finals till date.
Federer's 8th final of 2014. (he is 2-5 in finals in 2014).
Roger Federer is now 19-1 vs opponents born in 1990's. He has lost only one match vs Federico Delbonis (Hamburg in July, 2013).
Roger Federer has been broken only once in the 98 service games (in 6 matches) vs Milos Raonic. (RF has faced only 12 break points in 98 service games vs Raonic)
This is Federer's 11th win over a top-10 opponent in 2014, he is 11-4 vs Top 12 opponents in 2014.
This is the 7th year where Federer has reached 4 consecutive finals. 2004, 2005: RF reached 6 consecutive finals twice, 2006: 11 consecutive finals, 2007: 7, 2008: 6, 2012 & 2014.
Federer leads the head to head 15-0 vs David Ferrer. Federer's 15 match winning streak is one of the Top 5 active winning streaks in the ATP Open Era history.
Highest active winning streaks of the ATP open era (updated before the start of Cincinnati Masters 2014 final) :
Nadal vs Berdych: 17-0
Lendl vs Mayotte: 17-0
Lendl vs Davis: 16-0
Lendl vs Gilbert: 16-0
Federer vs Ferrer: 15-0
Ferrer vs Almagro : 15-0
Federer vs Youzhny: 15-0
Federer vs Nieminen: 14-0
Jimmy Connors vs Gottfried: 13-0
Scroll down for more pics, video highlights, interview quotes, more insights from the match.