Roger Federer produced another scintillating display of all round Tennis as he ended Novak Djokovic's 28 match wins in China (Beijing/Shanghai) spread over four years to reach the finals of Shanghai Masters 2014 for the second time. The Swiss maestro won 6-4, 6-4 in 1 hours and 35 minutes to set up the final clash vs Giles Simon on Sunday.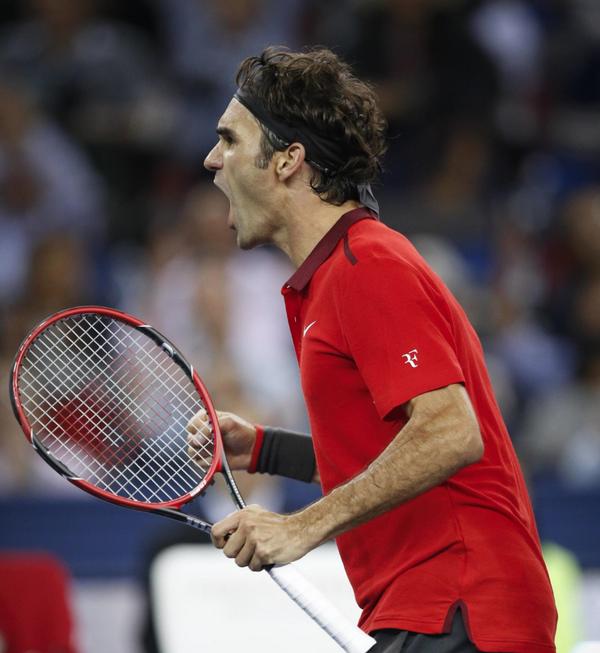 The match was played in an electrifying atmosphere with a full house. The atmosphere and the fans of both players made it look like a Davis Cup tie.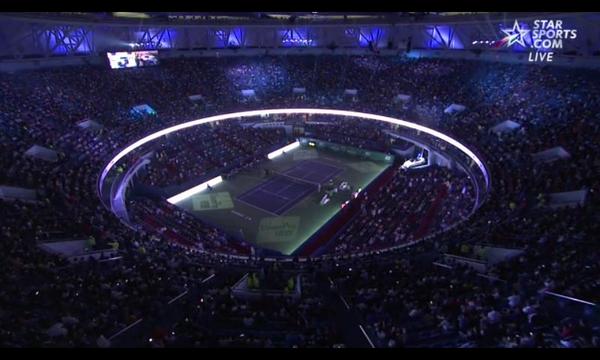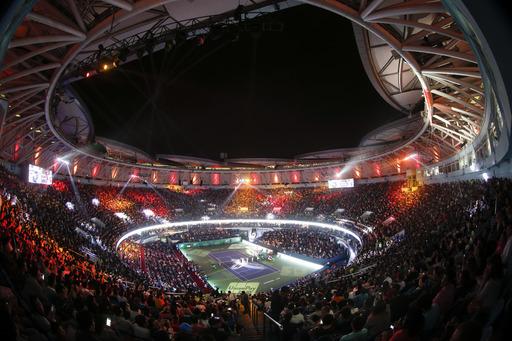 1st Set
Federer started aggressively and with a clear game plan of keeping the points short. He started approaching the net from the very first game. Federer got the first break in the 5th game and that one break was sufficient as Federer closed out the 1st set 6-4 in 38 minutes. Federer faced just one break point in the set.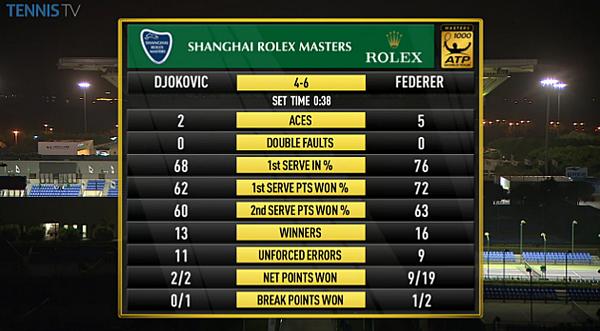 2nd Set
Federer broke the World No. 1 in the opening game. Federer's service was at its optimum best and Djokovic inspite of being rated as the one of the best returners the game has ever seen couldn't put any pressure on Federer's serve.
Federer kept on putting pressure on Djokovic's service consistently and had eight break points in the 2nd set. Djokovic managed to save two break points (match points) in the 9th game. Federer how ever served out the match in the 10th game winning the match and the set 6-4.
Here are the overall match stats ----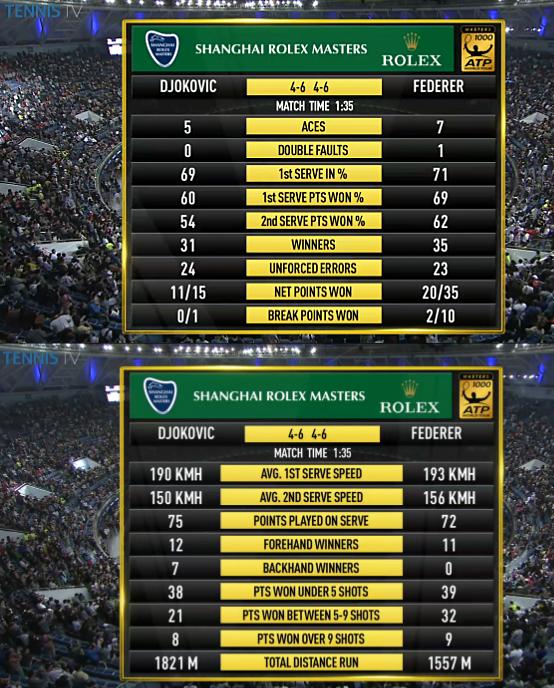 As you can see from the stats, Federer was better than Djokovic in all departments of the game.
Federer produced some of the best volleys that I have seen for a long-2 time. Not only was his feet movement perfect, but, he kept Djokovic guessing and all the time and that's the main reason, why Djokovic made 20 Unforced errors on the forehand side.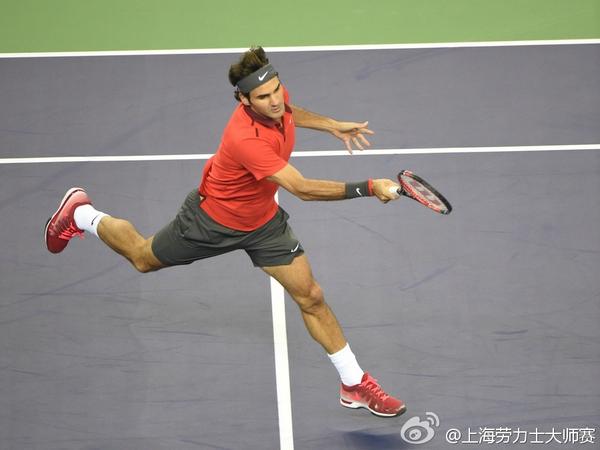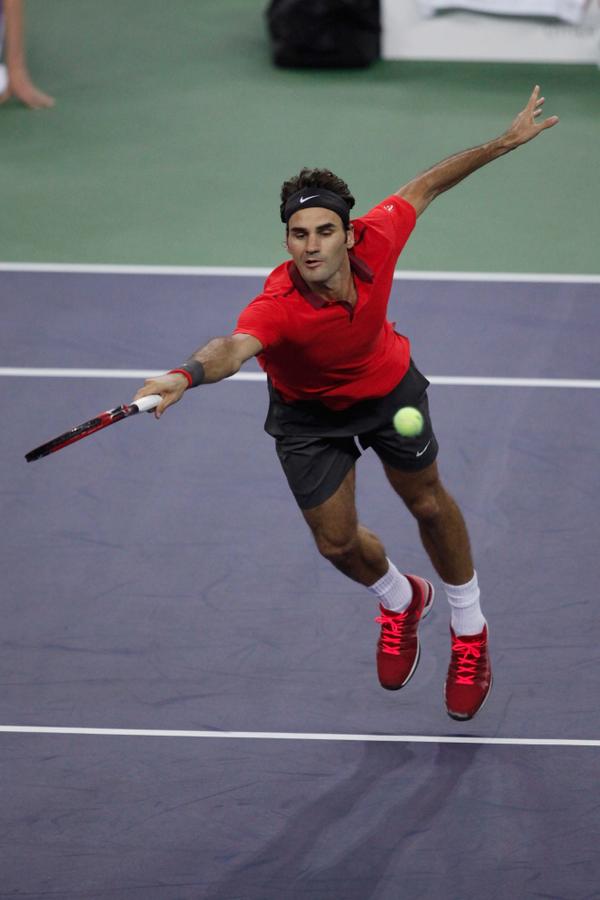 Federer also played a double handed volley in the first set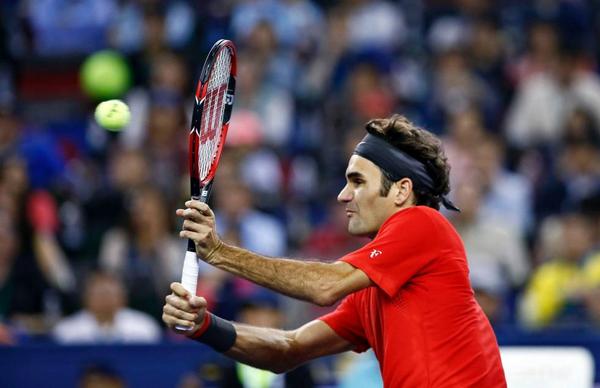 This expression by Djokovic completely summarizes the day Federer and Djokovic had ---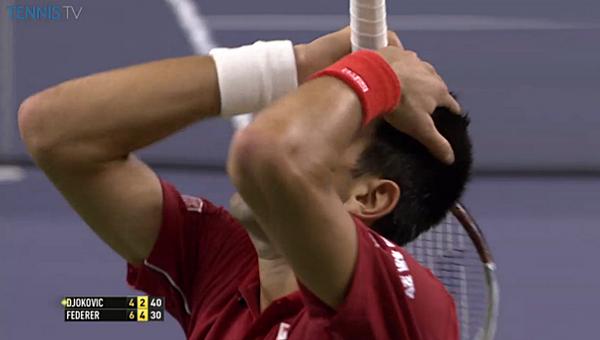 Some key stats from the match :
Roger Federer's 983rd overall career match win.
Federer's 60th win of 2014.
Federer's 882nd match win against right handed opponents.
Federer's 308th match win at an ATP-1000 masters tournament level.
This is the 2nd time in 4 appearances at Shanghai Rolex Masters, when Federer has reached Finals of Shanghai.
Tomorrow's final will be Federer's 9th final of 2014 (3-5 in 2014)
Tomorrow's final will be Federer's 39th final (22-16) appearance in an ATP 1000 Masters tournament in 113 appearances.
Tomorrow's final will be Federer's 122nd career final (80-41 in finals so far).
The following is the leader-board in terms of Finals appearances at ATP 1000 masters tournaments : Nadal: 40 in 83, Federer 39* in 113, Djokovic: 29 in 76, Murray: 12 in 75.
Federer has so far won 6 ATP-1000 masters tournaments in his career (only Shanghai Masters, Monte Carlo Masters & Rome Masters are the titles that desert him).
This is 4th match in the last 16 years where in

Roger Fed

erer has defeated reigning #1 in straight sets.
The previous three instances where in Roger Federer defeated the reigning World No. 1 in straight sets are as follows ::::::::::::
a) vs Rafa Nadal 2009 Madrid Masters,
b ) vs Andy Roddick 2003 Tennis Masters Cup,
c) Lleyton Hewitt 2002 Miami Masters (Nasdaq-100 Open)
Roger Federer and Gilles Simon have played 6 times before and Federer leads the head to head 4-2. The match starting time is 16:30 CST.
Scroll down for more pics, video highlights, interview quotes, more insights from the match.