Roger Federer recorded 9th fastest match win of his career as he eased past Gilles Muller 6-2, 6-1 in 46 minutes to reach Round-2 of Swiss Indoors.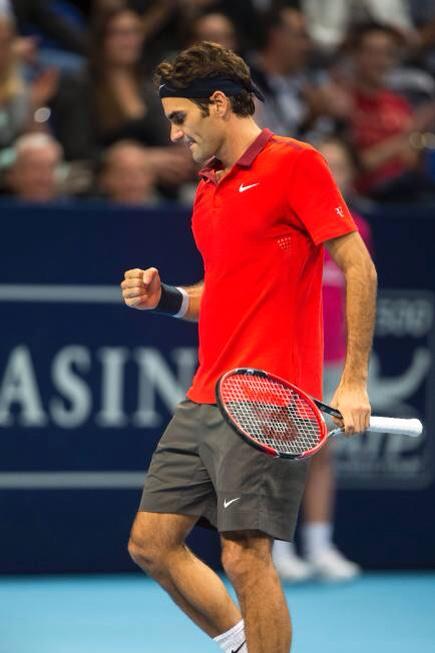 Federer will play Istomin in the 2nd Round on Thursday.
1st Set
Federer lost the first two points on his 1st service game and that was the only moment in the match where Mullers had an opening on Federer's serve. The Swiss maestro broke Muller's service in the 6th and the 8th game to comfortably win the first set 6-2 in 24 minutes.
Here are the first set stats ----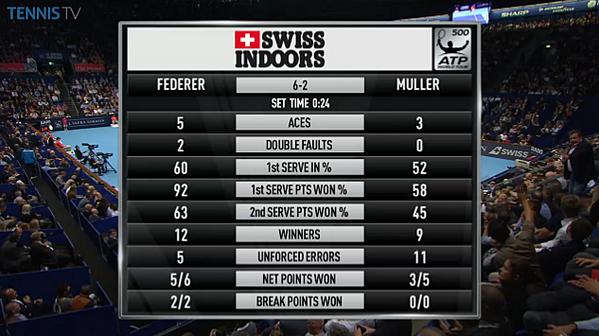 2nd Set
Federer broke Muller's serve in the 2nd & the 4th game. Muller how ever avoided the bagel as he held his service in the 6th game. Federer how ever comfortably served out the set and the match in the 7th game winning the set 6-1 in just 22 mins.
Here are the overall match stats ----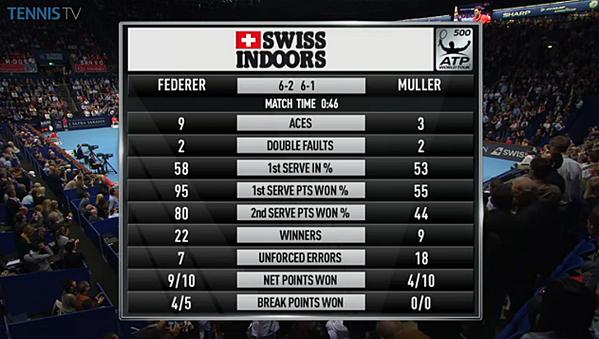 This was Federer's fastest ever match win at Basel. His previous fastest win (in terms of minutes on court) at Swiss Indoors was 52 minutes vs Alexandr Dolgopolov.
Some more stats from the match
Federer's 52nd match win at Basel, he is now 52-9 in Basel.
62nd match win of 2014.
985th career match win.
Federer has won the first set in 50 matches at Basel & he's gone on to win 49 of those matches. His only loss after winning the 1st set was against Nalbandian in 2002.
Federer's five quickest match wins (in terms of minutes spent on court) :
1) Halle 2013: 40 minutes
2) 2000 Halle: 42 mins,
3) 2002 Hamburg: 42 mins,
4) 2001 Hertogenbosch: 44 mins,
5) 2007 Montreal: 44 mins.
Scroll down for more pics, video highlights, interview quotes, more insights from the match.