Roger Federer continued his bid for 2014 year-end #1 as he defeated the impressive 20 year old qualifier Lucas Pouille 6-4, 6-4 in 1 hours and 14 minutes to reach his 7th ATP 1000 masters Quarter-final in 2014 & overall his 70th Quarter-final at an ATP 1000 masters tournament.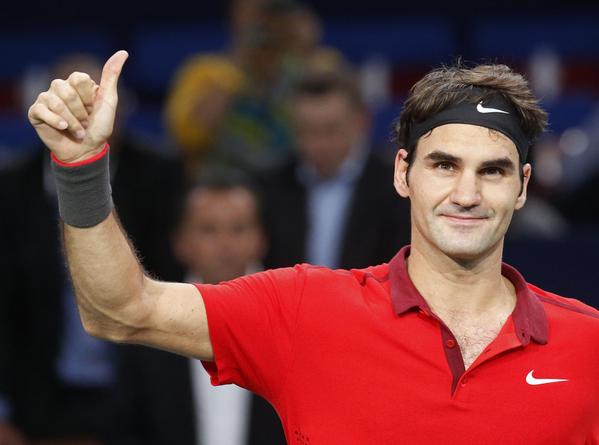 AP Photo Michel Euler
1st SET
The 20 year old Frenchman gave a good fight to Federer. He didn't look rattled at any stage of the match and matched Federer shot for shot. The first six games went on serve. How ever, the Frenchman faltered on his serve in the 7th game while leading 40-15, he made two unforced errors as Federer capitalized to get to a 4-3 lead. That one break was sufficient as Federer won the 1st set 6-4 in 29 minutes.
Here are the first set stats ---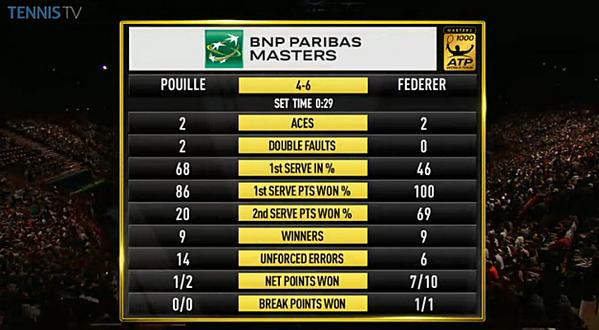 2nd Set
Federer had break points in the 2nd & 4th game, but Lucas managed to save those. But, how ever, Federer once again broke the Frenchman's service in the 7th game on his 3rd break point of the game.
That one break was again sufficient as Federer closed out the match in the 10th game.
Here are the match stats -----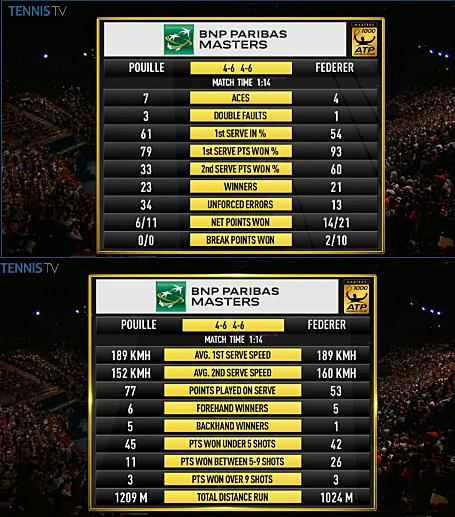 Some stats from the match :
Federer's 20th match win at Bercy, he is now 20-8 at Bercy.
68th match win of 2014.
991st career match win.
Federer's 14th consecutive match win post US Open.
Federer's 311th match win at an ATP-1000 masters tournament level.
This is the 7th time in 11 appearances at Bercy, when Federer has reached QF of BNP Paribas Masters.
Tomorrow's QF will be Federer's 70th Quarter-final appearance in ATP 1000 Masters tournament in 114 appearances.
The following is the leader-board in terms of QF at masters : Federer 70 in 114 masters, Nadal: 63 in 83, Djokovic: 55 in 77 (with Bercy being his 55th), Murray: 37 in 75.
Federer's 23rd win over a guy born in 1990's. Federer is 23-1 vs guys born in 1990's.
Roger Federer will play his QF match vs Milos Raonic on Friday. Federer leads the head to head 6-0 vs Raonic. Raonic has been able to break Federer's service once once in 88 service games in those 6 matches.
If Federer beats Raonic tomorrow, then Raonic will be out from World Tour Finals race & that would mean, Kei Nishikori, Tomas Berdych and David Ferrer will qualify for World Tour Finals, irrespective of other results.
Scroll down for more pics, video highlights, interview quotes, more insights from the match.