Roger Federer began his quest for a record seventh title at the season ending Barclays ATP World Tour Finals as he defeated Milos Raonic 6-1, 7-6 (0) in an hour and 28 minutes to record his 1st win at this year's season ending finale.
Roger Federer today equalled Andre Agassi's record of most number of World Tour Finals appearances. This is Federer's 13th successive appearance at the season ending finale. Though, Agassi qualified for 14 World Tour Finals/Tennis Masters Cup (but, he had to withdraw from 1995 due to an injury)...
1st Set
Federer's tactic of slicing paid rich dividends as Raonic's game looked out of touch in the first set. Federer broke Raonic's service in the 2nd game and 6th game to easily take the first set 6-1 in 25 minutes.
Here are the first set stats ----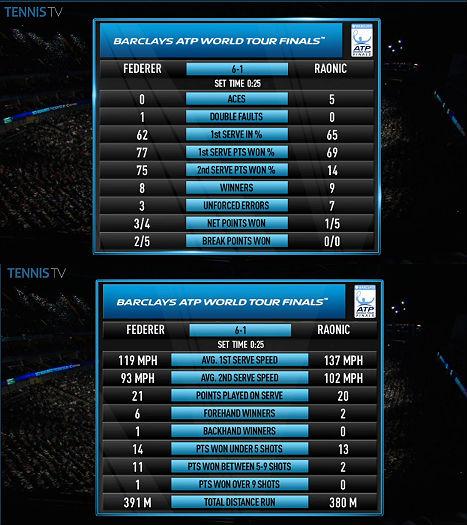 2nd Set
Raonic gave a much better fight in the 2nd set. Not only his serving improved, but so did his returning. His inside out forehand looked frightening many times.
The Canadian had two break points in the 4th game after Federer lead 40-0. However, Federer managed to save the break points in 4th and 6th game and Raonic had a slight opening in the 12th game as well after Federer trailed by 15-30. But, Federer managed to hold on and it was tie-breaker time.
Tie-Breaker
In the last 3 months, Federer has won 13 tie-breakers and lost only 3. That tie-breaker form clearly showed up as Federer easily won the tie-breaker 7-0.
Roger Federer today won his 368th Tie Breaker & this was 6th time in his career when he won a TB 7-0 (2nd time in 2014).
This was Federer's 7th win over Raonic and he revenged his loss that he suffered vs the Canadian at Bercy Masters last week.
Here are the match stats -----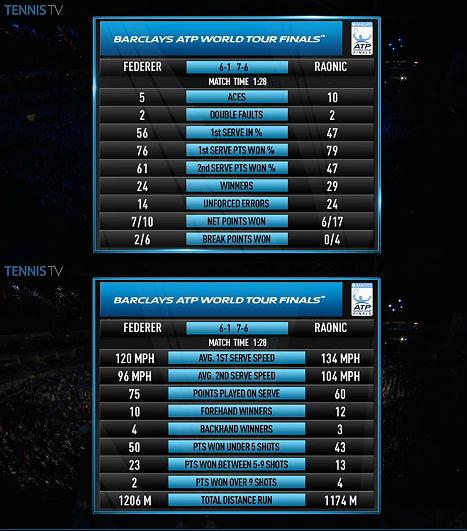 Federer is at the top of the group-B after this won and he will next play Kei Nishikori on Tuesday at 2 pm GMT while Murray will play Raonic in the evening session.
Some interesting stats from the match :
Federer's 18th match win at O2 London, he is now 18-5 at O2, London (since World Tour Finals started being held at O2 in 2009).
Federer's 45th win at the season ending World Tour Finals in his 56th match.
Federer leads the match wins and match appearances at WTF.
Most matches won @ ATP Finalshowdown (till date): Federer: 45, Lendl: 39, Boris Becker: 36, Sampras: 35, Agassi: 22, Djokovic: 19.
Most matches played @ ATP FinalShowdown:1) Federer: 56*, 2) Lendl, BorisBecker & Sampras: 49, 3) Andre Agassi: 42, 4) Jimmy Connors: 35
Federer's 69th match win of 2014.
RF's 992nd career match win.
Since turning 33 on Aug8 Roger Federer has played 17 tie-breakers, he's won 14 of those & lost three...
since turning 33 on Aug8, Roger Federer has played 29 matches, he's won 26 of those & lost 3
Federer's 24th win over a guy born in 1990's. Federer is 24-2 vs guys born in 1990's.
Most ATP FinalShowdown appearances: Roger Federer: 13*, Andre Agassi: 13, Lendl: 12, Jimmy Connors,Boris Becker & Pete Sampras :11.
Milos Raonic today served his 1100th service ace of 2014. With this he came the second man in 2014 to serve 1100+ aces.
This is 1st year in ATP World Tour history (aces recorded since 1991), when two guys (Raonic & Dr. Ivo Karlovic) have hit 1100+ aces in a season.
Most aces in a season:1) Goran Ivanisevic (1996) - 1449 aces, 2) Ivo Karlovic (2009) - 1318 aces, 3) Dr Ivo Karlovic (2014)- 1185.
In the first match of the day, Kei Nishikori defeated Andy Murray 6-4, 6-4.
Scroll down for more pics, video highlights, interview quotes, more insights from the match.