Roger Federer won his 2nd Round Robin match of the Barclays ATP World Tour Finals for a 13th consecutive year as he eased past Kei Nishikori 6-3, 6-2 in an hour and 9 minutes.
Roger Federer will qualify for semis tonight if:
(i) Andy Murray wins in 3 sets vs Milos Raonic
or (ii) Milos Raonic wins the match in 2 or 3 sets vs Andy Murray
Detailed scenarios are discussed here.
or in Simpler words, if Raonic wins just a set vs Murray tonight, then Federer will be through to the semi-finals of World Tour Finals.... This will be the 12th time in the last 13 years (only exception: 2008) when Federer will qualify for semi-finals of WTF.
& if Andy Murray wins in straight sets vs Raonic, then Federer at most would need to win a set vs Andy Murray on Thursday to 100% book his place in Saturday's semi-final...
1st Set
Nishikori started aggressively and had two break points in the 3rd game. But, Federer managed to hold and then immediately broke Nishikori's service to get to 3-1. There were no more breaks of service in the 1st set as Federer served out the set in the 9th game.
Federer won the 1st set 6-3 in 35 minutes. Here are the first set stats ----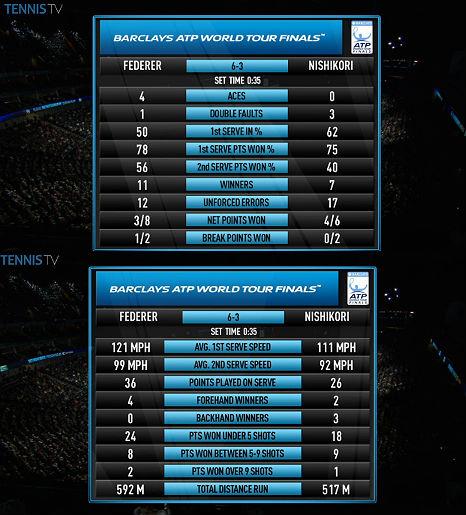 2nd Set
Nishikori took a medical time-out after the first set. Federer broke the Japanese service in the 3rd and 7th game. Federer faced just one break point in the 2nd set in the 6th game which he comfortably saved.
The Swiss maestro closed out the match in the 8th game winning the set 6-2 in 34 minutes.
Here are the match stats -----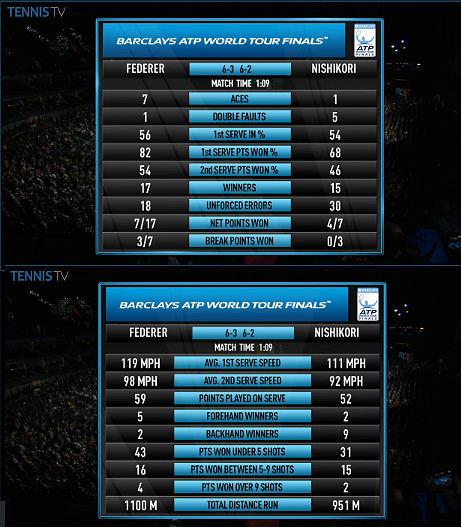 This was Federer's 70th match win of 2014. At the age of 33 years, 3 months & 3 days, Federer is now the 2nd eldest man in the ATP Open era to win 70 or more matches.
The following are the years where in, he's won 70 or more matches -----
1) 2003 : 78-16
2) 2004: 74-6
3) 2005: 81-4
4) 2006: 92-5
5) 2012: 71-12
6) 2014: 70*-11
Some interesting stats from the match :
Federer's 19th match win at O2 London, he is now 19-5 at O2, London (since World Tour Finals started being held at O2 in 2009).
Federer's 46th win at the season ending World Tour Finals in his 57th match.
Federer leads the match wins and match appearances at WTF.
Most matches won @ ATP Final showdown (till date): Federer: 46, Lendl: 39, Boris Becker: 36, Sampras: 35, Agassi: 22, Djokovic: 20.
Most matches played @ ATP Final Showdown:1) Federer: 57*, 2) Lendl, Boris Becker & Sampras: 49, 3) Andre Agassi: 42, 4) Jimmy Connors: 35
Federer's 70th match win of 2014.
RF's 993rd career match win.
Since turning 33 on Aug 8th, Roger Federer has played 30 matches, he's won 27 of those & lost 3.
This is the 1st time in this Millennium when the first five singles matches of ATP Final Showdown have been decided in straight sets.. Last time, it was in 1996 when the first five singles matches got decided in two straight sets.
This is the 13th straight year where in Federer has won his 2nd round robin match. The break-up of his round robin matches are as follows: 1st Round robin- 10-3.... 2nd Round Robin: 13-0.... 3rd Round Robin: 9-3....
Scroll down for more pics, video highlights, interview quotes, more insights from the match.