Roger Federer has pulled out of World Tour Finals final match against Novak Djokovic. Federer personally made this announcement at O2 arena, 20 minutes before the start of his final match against Novak Djokovic.
Federer made this announcement 20 minutes before the start of the final match.
Here is what Federer said in his address to the crowd at 02 arena,
"Unfortunately, I'm not match fit to play the match tonight," said Federer on court. "Clearly I wish it wasn't so. I tried all year to be ready for the ATP World Tour Finals, and I didn't want it to end this way. I tried everything I could last night, also today – painkillers, treatment, rest, so forth, warm-up, until the very end – but I just can't compete at this level with Novak. It would be too risky at my age to do this right now and I hope you understand.
"I wanted to come out personally and excuse myself. It's been a great week for me. I played some great tennis and I love coming to The O2 and to London, and there's been so many great memories for me here. Congrats of course to Novak, who's played an amazing season, and an amazing tournament here as well. I hope we can play some more great matches, hopefully next year.
"Thanks to all you guys for making it special to come out and play tennis all around the world. I know you guys travel, as well, and spend a lot of money on tickets and so forth. We really, really appreciate it – me in particular. It keeps me going, it makes me tick, especially at this age. Hopefully, I can come back next year and get another chance to compete for the title here. So thank you very much and I'll see you soon. I appreciate it."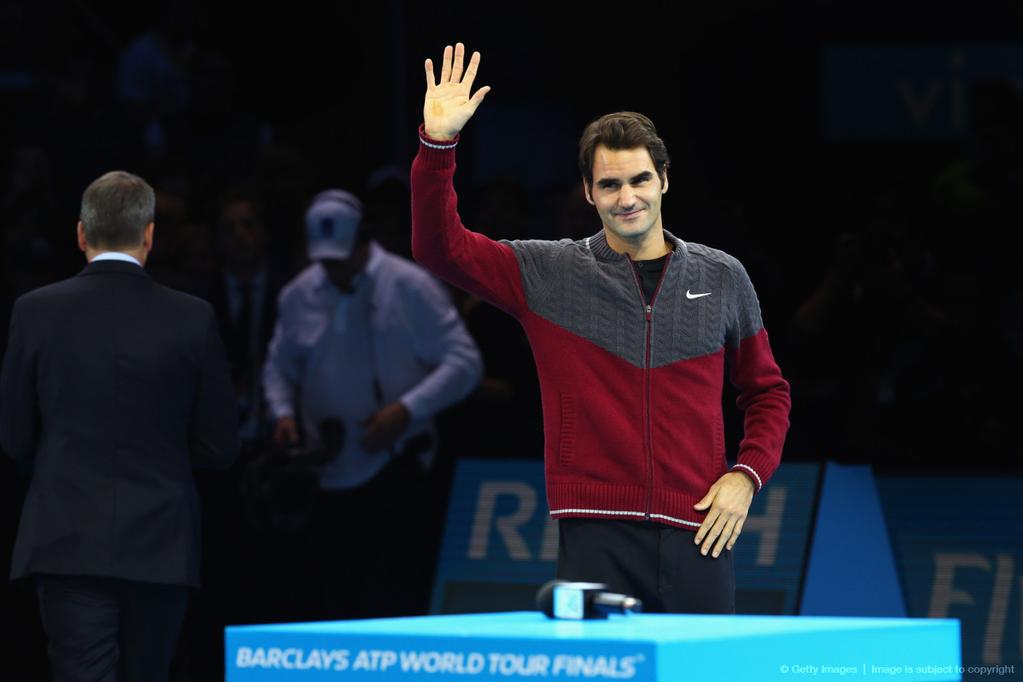 Federer did sign a few autographs on his way back from the O2 after making the withdrawal announcement
Screenshot credit: Glory
It is only the third time in Federer's career that he has been forced to withdraw, each time due to a back injury – also walkovers at 2008-Paris QFs vs. Blake and 2012 Doha SFs vs. Tsonga.
Minutes later, an announcement was posted on his facebook page and here is the screenshot of that ----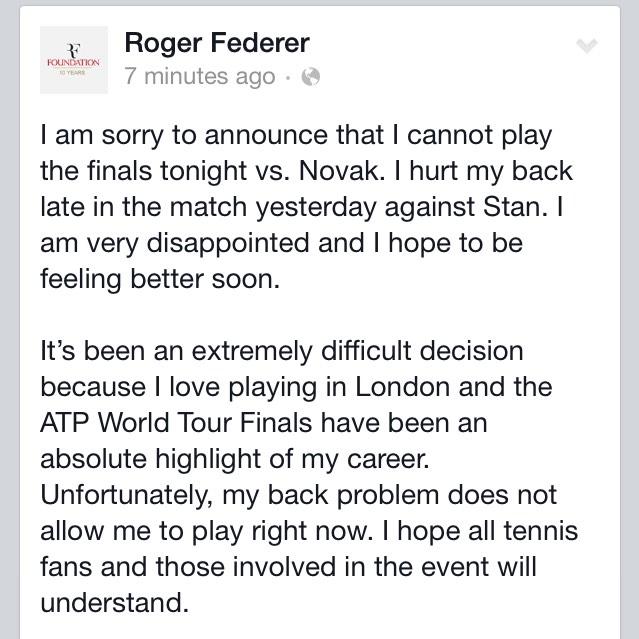 Here is the text of what RF mentioned on his facebook wall----
I am sorry to announce that I cannot play the finals tonight vs. Novak. I hurt my back late in the match yesterday against Stan. I am very disappointed and I hope to be feeling better soon.

It's been an extremely difficult decision because I love playing in London and the ATP World Tour Finals have been an absolute highlight of my career. Unfortunately, my back problem does not allow me to play right now. I hope all tennis fans and those involved in the event will understand.
It remains to be seen if Federer will play in the Davis Cup final starting from Friday. From all of us, here's wishing a quick recovery to the Swiss maestro.
This is what Federer later had to say about his plans to play at the Davis Cup 2014 finals ----
Scroll down for the video and more updates.