Roger Federer and Stan Wawrinka produced an absolute fantastic display of Tennis as they defeated the French duo of Julien Benneteau and Richard Gasquet 6-3 7-5 6-4 to bring Switzerland from just one away from their first ever Davis Cup title.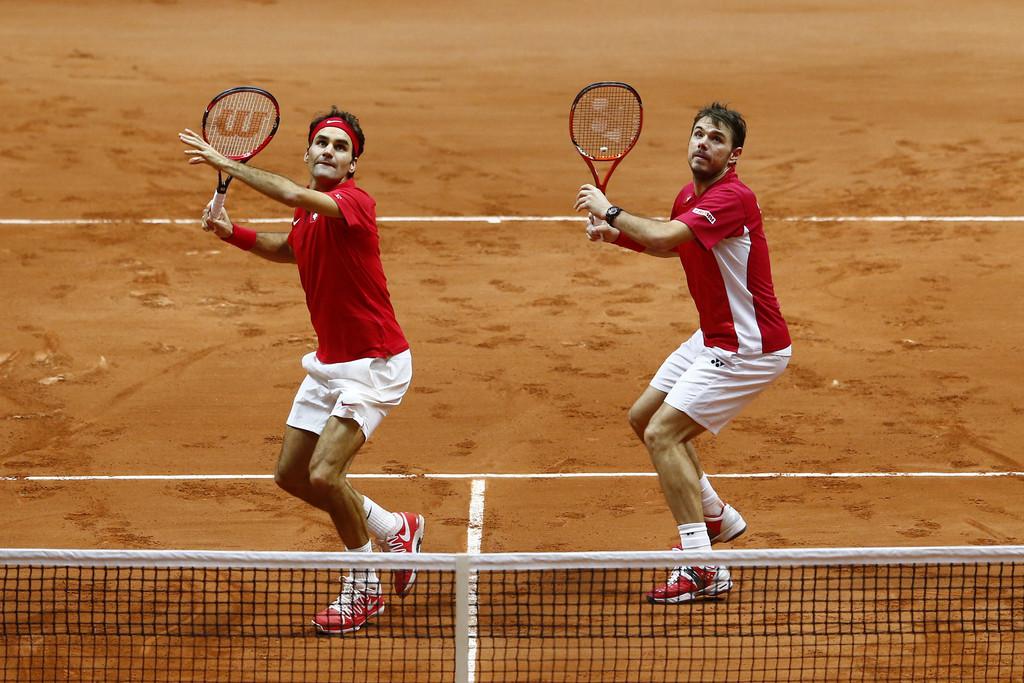 Image Credit: Getty
This was the 16th doubles match that Federer & Wawrinka won playing together & this was their first doubles win at Davis Cup in over three years after four consecutive losses.
Federer who lost his singles match on Friday against Monfils looked much sharper today. His back that seemed to be hampering his movement didn't bother him that much today. As he stated after the match, "Clearly it's a big relief. The medical staff, it's a big thanks to them."
Though, the real star of the match was Stan Wawrinka. Not only his game (just like yesterday) was at its peak, but, he helped to raise Federer's game too and the Swiss duo looked in control through out the match.
1st Set
The Swiss duo broke Benneteau's service in the 6th game and that one break was enough as they wrapped up the first set 6-3.
2nd Set
The French pair raised their game in the 2nd set. Benneteau showed some fantastic volleying & tried to keep his partner & the crowd in the match with his emotional cheering. Even Gasquet who looked a bit out of touch raised his game in the 2nd set. The French pair had five break points but Federer/Wawrinka were up to the task and managed to save those break points and the French onslaught.
Gasquet lost his serve in the 11th game after Federer struck a beautiful backhand volley. Wawrinka then served out the set to take a 2-0 lead.
3rd Set
The Swiss pair broke Benneteau's service in the 5th game and that one break of serve was enough as Team Switzerland got to a vital 2-1 lead after the 2nd day.
This was the 3rd Davis Cup doubles match that Federer/Wawrinka won together (in their 7th match together) & overall, their 16th doubles match win in their 23rd doubles match.
As Severin Luthi stated after the match, they wanted to have their best team to play this doubles match. Originally, Marco Chiudinelli and Michael Lammer were originally slated to play the match. Luthi further added, "Today's match will surely help Federer, he hasn't played much this week."
In the 114 year old history of Davis Cup, only 6 times has a team came back from 1-2 down to win the Davis Cup final tie.
(i) 1902- USA
(ii) 1927- France
(iii) 1953- Australia
(iv) 1964- Australia
(v) 2002- Russia
(vi) 2010- Serbia
& out of these 6, only 3 teams have won their home tie after being down 1-2 (Serbia in 2010, Australia in 1953 & USA in 1902).
Federer will play Tsonga in the first reverse singles while Wawrinka will play Monfils in the 2nd reverse singles. If Switzerland manage to win any of these two matches, this will be their first time in history when Team Switzerland will clinch the Davis Cup title.
Scroll down for more pics, video highlights and more insights from the match.