Following the rather shaky start to his Brisbane campaign yesterday, hopes were high that the tough match against John Millman would have played Roger into form, much as happened last year in Shanghai, where he had struggled to find form in the opening match against Leonardo Mayer - later going on to win the trophy there. Dare not look that far ahead here just yet


It was a very focussed Roger Federer who took to the court against James Duckworth today. Putting on an impressive display to win in straight sets 6-0 6-1 in a match lasting 39 minutes.


Photo: Bradley Kanaris, Getty Images



This Roger Federer's 998 career win on the ATP tour!




First Set



James Duckworth won the toss and elected to serve. He looked rather tense, giving Roger Federer the opening he needed to break. Mind you Roger was on form from the start, making some stunning shots close to the line to win that first game with apparent ease. Then a double fault from Duckworth hands Federer the double break. Roger was on a roll, holding his serves comfortably and breaking Duckworth for a third time, then serving it out Federer takes the first set 6-0 in just 16 mins. Truly a display of sheer dominance so different from last night.


Photo: Bradley Kanaris, Getty Images





Second Set



The second set started much the same way as the first with Federer breaking to take an early lead and following that up with a second break. Thankfully for his sake, Duckworth did manage to win a game but all in all it was calm masterclass of a performance from Roger Federer, who served well and showed his skills in shot placement.


Here's the official Highlights package.
Video: Brisbane International



Match Point




Roger's on court interview ~ which you can still make out behind the translation




I must admit I felt rather sorry for James Duckworth by the end of it all. It was not his day out there. An awkward moment perhaps, for both players.


Match Stats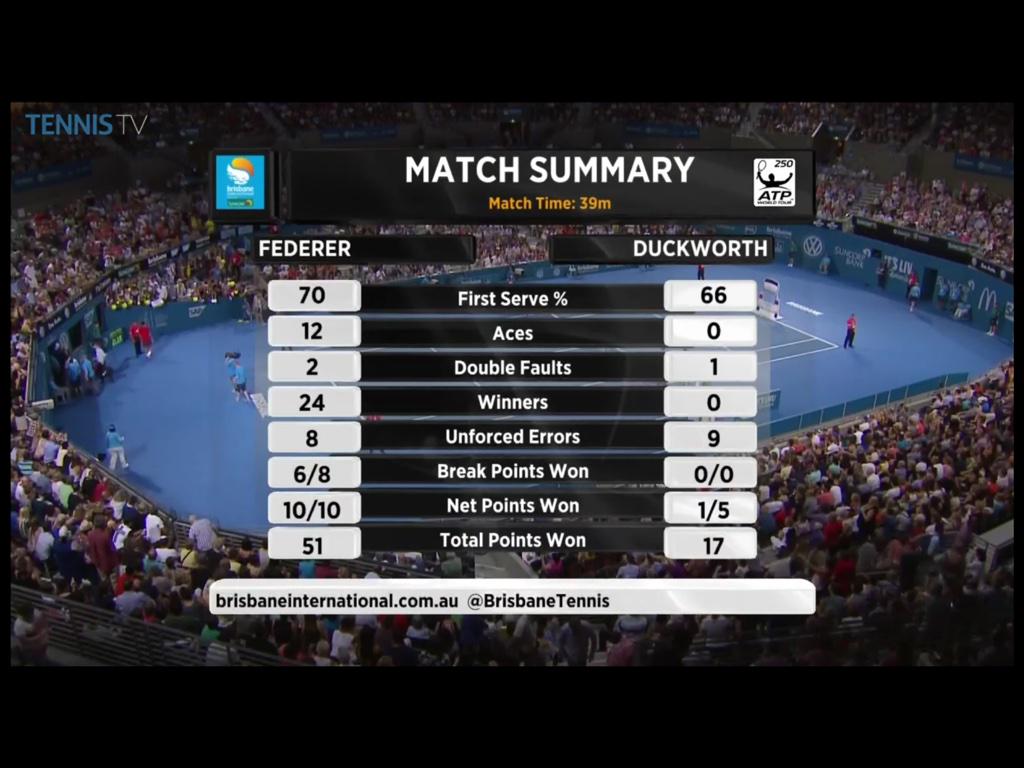 Screen shot: Wendy redRobin