Roger Federer fought back from a slow start on Wednesday to reach the Dubai Duty Free Tennis Championships quarter-finals.
Pic by DDFT
The second seed, who is a six-time champion at the Aviation Club, defeated Fernando Verdasco 6-4, 6-3 in 60 minutes during the night session.
"I'm very happy how the match went," said Federer. "I think it was a good quality match from my side. I think Fernando played well for spells, but I think I was quite consistent."
Verdasco led 4-1 in the first set, producing a series of stunning winners to keep Federer on the back foot. But Federer regrouped to win five straight love service games – 20 points – to clinch the 30-minute opener.
Here are the first set stats ----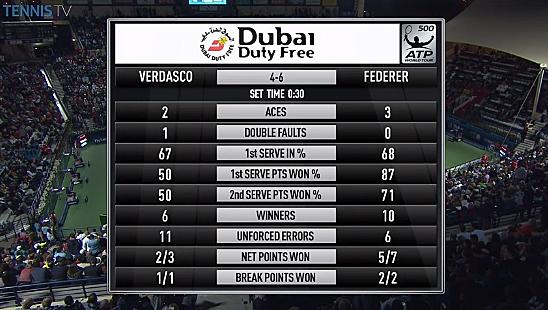 "It's not the first time it's ever happened to me, but it's a great comeback because I did feel that Fernando was hitting the ball well and came out and played very committed [and] serving well," added Federer.
Federer hit four aces and is now 11 aces away from striking the 9,000th ace of his career. He won 83 per cent of his first service points against Verdasco to reach the last eight.
He will play Richard Gasquet on Thursday not before 7:00pm UAE time...Federer leads Gasquet 13-2 in their FedEx ATP Head2Head series.
"I'm looking forward to playing against him," said Federer. "Last time we played was Davis Cup final on that Sunday, in front of that big crowd, and it was a lot of pressure. I think this time is going to be a bit more relaxed going in."
Match stats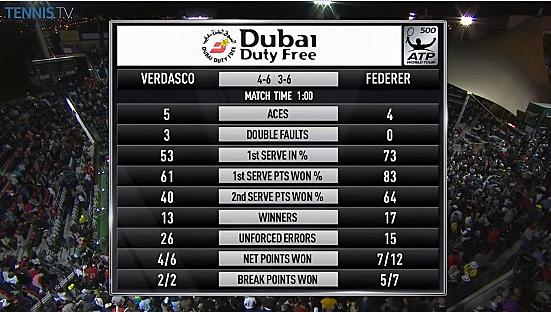 by tennis tv
This is the 10th time in 12 appearances when Roger Federer has reached the quarter-finals of Dubai Duty Free Tennis championships (missed out in 2002 & 2008) ----
Today was the 121st match that Roger Federer won in 60 minutes or less. He's won 105 matches in less than an hour & 16 matches that lasted exactly an hour..
All the quotes courtesy:ATP World Tour
Scroll down for pics, highlights, more insights from the match..