Roger Federer became the first man in the ATP Open Era to record 50 match wins at 3 ATP Tour events (Halle, Basel, Indian Wells) as he overcame a dogged serving resistance from Dr. Ivo Karlovic 7-6 (3), 7-6(4) in an hour and 28 minutes to reach his 10th successive final at Gery Webber Open.
Overall, Halle is now the 7th event where in Roger Federer has won 50 or more matches.
As expected there were no break of serves in both the sets. In the first set, Karlovic had a couple of deuce on Federer's service, but Federer was up to the task & it was tie-breaker time.
Before the start of this match, Federer had won 13 of the 16 tie-breakers.
Federer comfortably won the tie-breaker 7-3. Here are the first set stats -----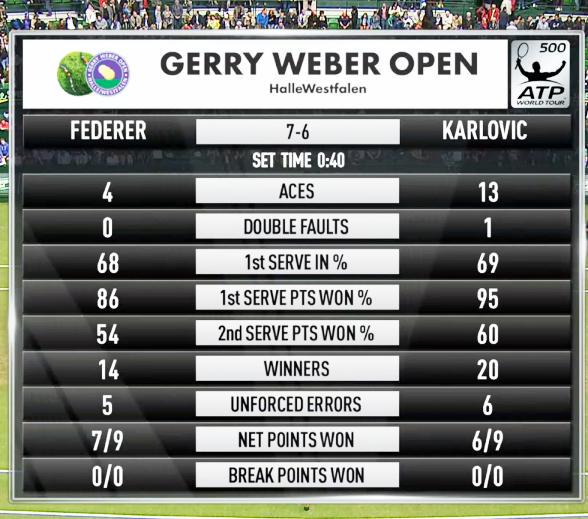 Screenshot cr: viki_rf
The second set was no different, just that Karlovic had one break point. Karlovic during the course of the 2nd set (his 20th ace of the match) served his 114th ace of the tournament.
With this, Karlovic bettered his own record of 113 aces that he set in February 2007 at San Jose.
How ever, the most aces record in a best of three setter tournament still lies with John Isner, he set that record in 2007 Washington (144 aces).
Most aces in a best of 3 setter tournament :
1) John Isner - 2007 Washinton 144 aces
2) Ivo Karlovic - 2015 Halle 114 aces
3) Ivo Karlovic - 2007 San Jose 113 aces
Most aces in a best of 5 setter tournament (major/ grand slam tournament) :
1) Goran Ivanisevic - 2001 Wimbledon : 212 aces
2) Goran Ivanisevic - 1992 Wimbledon : 202 aces
3) Goran Ivanisevic - 1998 Wimbledon : 184 aces
4) Mark Philippoussis - 2003 Wimbledon : 178 aces
5) Goran Ivanisevic - 1994 Wimbledon : 167 aces
6) Goran Ivanisevic -1995 Wimbledon : 166 aces
7) Pete Sampras - 2002 US Open : 144 aces
Federer won the tie-breaker 7-4 & with this reached his 10th final at Halle, overall his 130th singles final.
Here are the overall match stats -----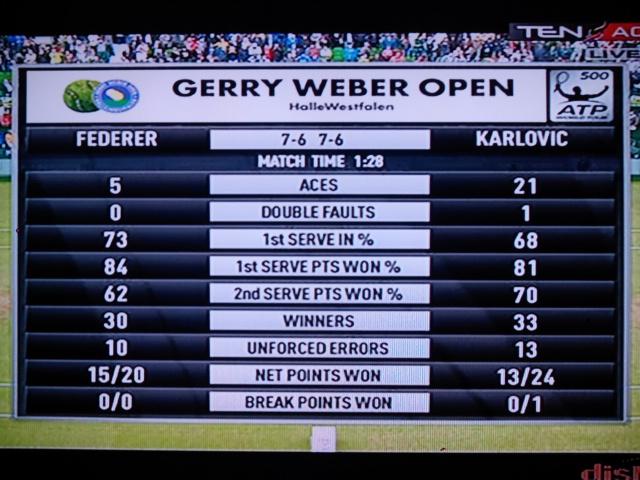 2015 is now the 12th year in the last 13 years (with the exception of 2013), where in Roger Federer has reached the finals of 6 or more tournaments in a year.
Scroll down for more pics, video highlights, hot shot, interview quotes & more insights from the match.